4 Reasons Why Video Marketing is Extremely Important
4 Reasons Why Video Marketing is Extremely Important
/images/uploads/blog/JAN_11_OMG_BLOG_WHY_VIDEO_MARKETING_IS_IMPORTANT_%281%29.jpg
Omaha Media Group
https://www.omahamediagroup.com/images/uploads/monster_gallery/Omaha-Media-Group-Black.jpg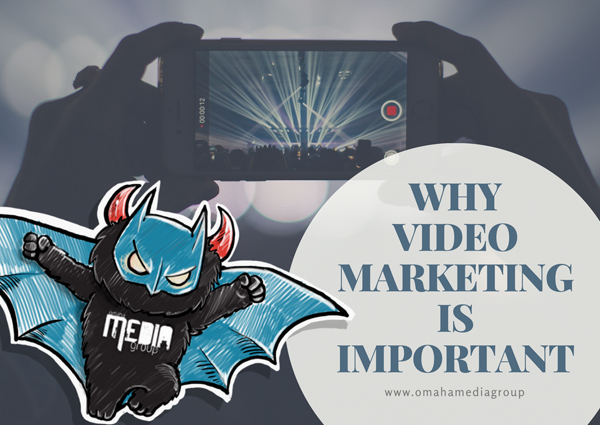 Why video is winning hearts
If content is king, then video content is the purest of the royal bloodlines. Ask any marketer about the video and they would tell you that the ROI on video marketing is extremely high. With better technology and greater competitiveness in the market, the cost of making a quality video has also fallen drastically. DreamGrow says that 76% of businesses agree that video marketing provides more than a decent return.
With ever falling attention span, video remains one of the most attractive, shareable and versatile mediums that marketers look at. According to Impact Branding and Design, nearly 75 million people watch videos online in the US every day. Embedded videos on a website can increase traffic up by up to 55%. Mention of the word "video" in the subject line of an email increases the click through rate by 13%.
Most experts aver that it is easy to relate to a topic of discussion and also explain a concept in a video. Many don't like to read. It is easier to hold their attention when putting across a marketing message through a video.
Whether it is YouTube, Vimeo, Podcasts or even live video streaming like Facebook Live, Snapchat or Periscope, most businesses are seeing a huge growth opportunity. With greater internet penetration and higher sale of smartphones, this form of content would one day provide the most viable form of marketing opportunity.
Reasons to include video marketing in your marketing repertoire
1. SEO benefits
One of the biggest benefits is from the perspective of SEO. If you can optimize your video correctly by including links, asking for subscription, providing a nice copy with a number of links to your website, blogs, social media accounts, and so on, it will not only increase the traffic but also increase chances of your SERP ranking.
2. A video can be prepared in a short period of time and can express a lot
With better editing software, creating a decent video in no time has become possible. Using emoticons and a range of emotions, a clever and crisp marketing copy, you can say a lot even in 1 or 2 minutes. It is impossible to replicate in a blog, social media post or an article. E-books, long posts are not always read by everyone as they take a lot of time and effort.
3. Easier to demonstrate the features and benefits of your product or service
Most customers find it easy to understand and relate to a product or service when they can see it and also see how it works. The USP of the product and why it is the best alternative for the prospect can be easily explained using gestures and a cool script.
4. People are finding vertical ad videos more appealing
There was a time when marketers in certain niches thought that it was impossible to market an ad or promotional video as the industry or product they represented weren't "glamorous". Things have changed now. People want vertical videos that promote specific ideas, niches or products and explain in great details. Video content has provided a level playing field to different industries and market players.
There are much more reasons for subscribing to video content production. It is the present and future of online marketing and the way it has exploded onto the scene, one can say with a degree of certitude that it would be the biggest revenue generator for marketers in the coming years. Is your brand ready to utilize our video services?
Contact Us
We want to hear from you, so what are you waiting for? Contact us today.
Get In Touch
Share this post
Comments