4 Ways to Enjoy More Success while Working Less
4 Ways to Enjoy More Success while Working Less
/images/uploads/blog/4_WAYS_TO_ENJOY_SUCCESS_AND_WORK_LESS_%281%29.png
Omaha Media Group
https://www.omahamediagroup.com/images/uploads/monster_gallery/Omaha-Media-Group-Black.jpg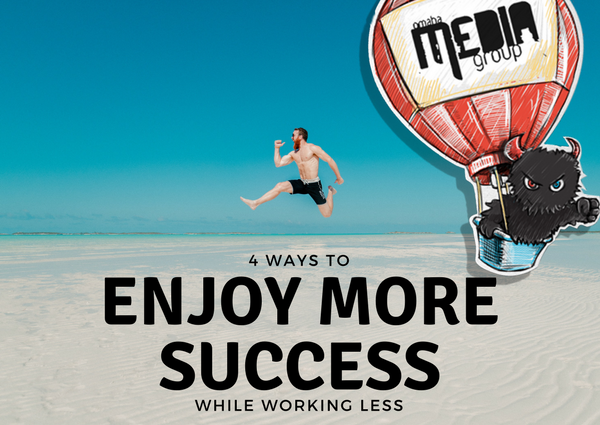 Entrepreneurs are one of the finest examples of determination and grit because of their drive to succeed in the highly competitive business world. While it is important for entrepreneurs to work hard, it is also necessary for them to take significant amounts of rest.
John Pencavel did a study and found the link between productivity and work hours. According to the study, John found that if individual works for more than 50 hours in a work week, there will be a drop in productivity.
If you learn how to work smarter, then you will become a better and healthier leader. Here are four ways to enjoy more success while working less.
1. Delegate work to kick-start multiplier effect
While you may have built your business from scratch, you shouldn't do all the work by yourself. Even if you are efficient in completing certain tasks, you won't be good at everything. When you delegate work, it will empower your employees, showcase their skills, and give you a broader perspective about your business. The multiplier effect means that the more people you delegate work to, the greater the output. As a result of this, you won't have to work 24/7.
2. Plan out your work and execute it
Rather than having a large number of goals and spreading yourself too thin, you should focus on your greatest value and bring it to the company. It could be anything such as securing resources, establishing relationships or implementing strategies. However, you shouldn't try to do all these things at the same time. The success of your business depends on your ability to look ahead and see how you can continually add value to your business. For example, right now you may need new clients. In a few months, you will have to recruit new employees for your business.
3. Add 'no' to your vocabulary
Whether it is writing a book or attending public events or volunteering to help the community, you will always find new opportunities on a regular basis. Just as it is important to say yes, you also need to say no because you need to devote your time to your business. When you say yes to everything, you will have too many commitments, which can backfire. If certain opportunities are brilliant, then you can say not now, instead of no. By doing this, you are leaving room to pursue these opportunities in the future.
4. Balance work and life
Just as how you spend a large portion of your time on yourself, you also need to focus on spending time with yourself. For example, you can take an hour or two off every week to think about how you could have handled a situation better or develop a brand new strategy. You should also spend time with your family and take vacations so that you will be fresh to tackle various obstacles your business has to face.
Follow these four ways so that you can enjoy your success to its fullest!
If you're ready to take some of the business load off of your shoulders, contact us! We can help with SEO, Digital Marketing, Social Media Marketing, and so much more!
Contact Us
We want to hear from you, so what are you waiting for? Contact us today.
Get In Touch
Share this post
Comments