5 Simple Rules for Writing Readable Blog Content
5 Simple Rules for Writing Readable Blog Content
/images/uploads/blog/Readable_Content.jpg
Omaha Media Group
https://www.omahamediagroup.com/images/uploads/monster_gallery/Omaha-Media-Group-Black.jpg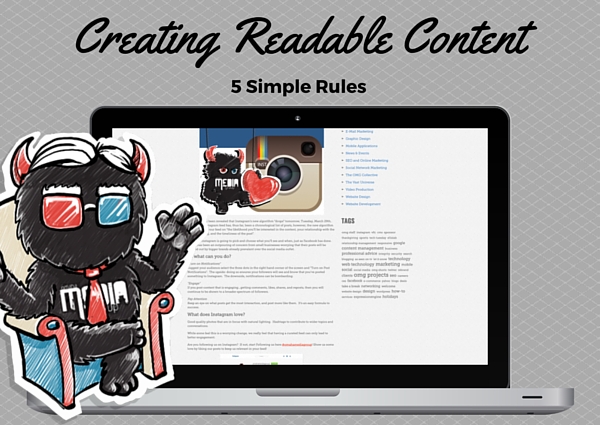 Reading from a screen is very different than reading from an actual page, so making sure your blog content is easy to read is imperative to returning visitors and a higher conversion rate. Writing for your audience should always be your number one focus for setting the tone to whatever your topic is. Below are 5 general rules for writing readable blog content.
1. Clear paragraphs
Start all of your paragraphs with the most important sentence first. Elaborate from there ensuring that your readers will gain the most relevant content first. Paragraphs should be no more than 7-8 sentences long and written in a context that suits your audience.
2. Short sentences
As stated, paragraphs should be kept short and sweet, but your sentences should be as well. Keeping sentences to 20 words is a best practice.
3.Limit difficult words
Words containing four or more syllables are considered difficult words to read, especially on a screen. However, in some cases, difficult words are unavoidable. In that case, keeping your paragraphs and simples short and sweet.
4. Signal words
Using signal words (transition words) like 'because, 'thus', or 'most important,' you are giving your audience direction. This makes them aware that something else is coming up. Essentially, this is gluing your sentences together.
5. Mix it up
Varying your language keeps your audience engaged. Mixing up your language with different words is more appealing to your readers. If you're constantly using the words 'and' or 'too', trying using 'also' or 'moreover'. Alternating between long and short sentences also is easier for your audience to read.
Getting your audience to read your entire blog post requires some thought, but remember that keeping it simple is best. Choose the right typography, be engaging and relative with your language, and be as simple as your audience needs it to be.
Let Us Create For You!
If you need help strategizing your blog's content, or would like information on having blog content written for you, contact us today!
Contact Us
We want to hear from you, so what are you waiting for? Contact us today.
Get In Touch
Share this post
Comments