6 Ways To Leverage Text Messaging Marketing
6 Ways To Leverage Text Messaging Marketing
/images/uploads/blog/omg_text_marketing.jpg
Omaha Media Group
https://www.omahamediagroup.com/images/uploads/monster_gallery/Omaha-Media-Group-Black.jpg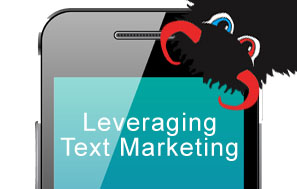 Like any business, Business Network Marketing requires the ability to build and capture the attention of potential networking leads. How do you get in front of your network to pitch your product or service? How do you recruit more people and build your sales organization? How do you train and motivate the team you have built? One simple and effective way of doing all of this is through SMS, or text messaging. Here are 6 ways to leverage text messaging for business network marketing to increase sales and improve recruiting efforts.
1. Distribute Digital Business Cards
In this day and age, paper-free is the way to go. Instead of handing out a business card to a potential lead, have people text into a shared short code number and automatically receive a text reply with information such as your title, phone number, email, and website. The world of marketing is all about your network, and creating digital business cards is a great way to build your network of potential sellers, as well as potential buyers. After all, you can't lose a digital business card.

2. Generate Leads by Text
Generating quality leads can be a huge challenge. One way to find quality prospects is to advertise an SMS keyword on your printed fliers, email signatures, direct mail, or anywhere you normally promote your product. Interested prospects who see your ad can then text your keyword, while you collect their mobile phone number as a lead.

3. Text Reminders For Sales Training Sessions/Webinars
Once you've recruited a network of sellers, the next step is sales training. Keep your network in the loop about upcoming webinars and training sessions through the ease of SMS alerts. Simply have your sellers subscribe to your text messages upon hire, and send out alerts whenever there is an upcoming training event. People check their text messages more frequently than email or voicemail, so this way no one will miss a session and your network of sellers will be ready to go in no time!

4. Inform Sales Organization of New Products
As your business grows and expands, so will your inventory. Keep your distributors notified and up date on the latest information about new products by sending out text notifications. The efficiency of SMS will ensure that your network of sellers receive this information instantaneously, equipping them with the most up-to-date knowledge on your products, naturally benefitting business.

5. Offer Incentives for Sellers
We are all naturally reward-driven and goal-oriented. Provide incentives to your sales team using SMS to send out alerts to your network, informing them of incentives that you are offering for certain selling points. Or, send motivational quotes through text message. This will keep both morale and revenue high. Alerts with little reminders of these incentives will help avoid any plateau in sales while keeping your sellers' spirits up.

6. Provide Information on Demand
SMS auto-responders are a great, effortless way to provide information to potential distributors of your product. Set up your auto-response, and simply have people text in to automatically receive a link to more information on your website about getting involved with selling and about your company. Advertise on flyers, post on social media, and let your friends and family know to get involved by texting in to an easy-to-remember short code like 00000 to receive more information on selling.
Need help with your SMS networking? We can help! Contact us today.
Contact Us
We want to hear from you, so what are you waiting for? Contact us today.
Get In Touch
Share this post
Comments