Creating Marketing Campaigns: Timing Is Everything
Creating Marketing Campaigns: Timing Is Everything
/images/uploads/blog/TIMING_IS_EVERYTHING.jpg
Omaha Media Group
https://www.omahamediagroup.com/images/uploads/monster_gallery/Omaha-Media-Group-Black.jpg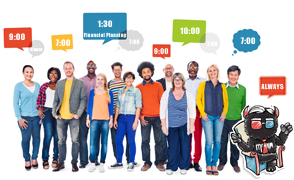 Believe it or not, there is a science to the timing of social and email marketing. There is significant data suggesting that there are windows in which email campaigns and social campaigns are the most fruitful. This is a brief overview of the most effective and ineffective times to market to your audience for you to keep in mind as you create your marketing plan for the new quarter.
As expected, there is a "dead zone" for your audience. This "dead zone" is between the hours of 10pm-6am. The majority of emails and campaigns sent between these times are ineffective. Avoiding publishing and sending campaigns during this time is a wise choice.
Between the hours of 6am and 10am is one of two most prevalent time periods to send successful campaigns. At the beginning of the work day consumers allow themselves some "slack" time with offers on live events, clothing, dining, and other consumer goods.
Emails sent between the hours of 10am and noon often go unopened. Consumers are focused on their work for the day at this time. In addition, the lunch hour between noon and 2pm is generally spent getting caught up on news and pop-culture. Between the hours of 2pm and 3pm, consumers are "in the zone" and back to being focused on their work. Emails and campaigns regarding financial services do, however, tend to get a fair response.
Between the hours of 3pm and 5pm, campaigns and emails regarding careers, real estate, and financial services are opened. Campaigns that get consumers thinking about their personal situation prove to be effective within this time block.
Within the hours of 5pm and 7pm, there has been a rise in open campaigns for holiday promotions. Lastly, consumers respond well to promotions between the hours of 7pm and 10pm when they've been off of work and relaxing on their own personal time. Offers on clothing, special interests, and gym promotions fair well during this time.
Statistically, open and clicking rates are highest in the morning when consumers are gearing up for their day, and later in the evening when consumers are powering down from a long day. These guidelines can help you create more effective campaign and reach the most consumers.
If you're looking to develop a marketing campaign plan, contact us today!
Contact Us
We want to hear from you, so what are you waiting for? Contact us today.
Get In Touch
Share this post
Comments