Digital and Social Media Marketing Strategy for Real Estate Pt. 2
Digital and Social Media Marketing Strategy for Real Estate Pt. 2
/images/uploads/blog/SOCIAL-MEDIA-MARKETING-STRATEGY-FOR-REAL-ESTATE-OMAHA-MEDIA-GROUP_%282%29.png
Omaha Media Group
https://www.omahamediagroup.com/images/uploads/monster_gallery/Omaha-Media-Group-Black.jpg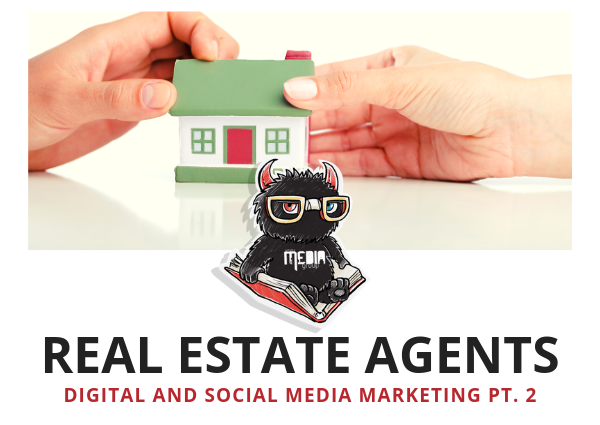 On Wednesday we touched on real estate and how a digital and social media marketing strategy can boost brand awareness, maintain your reputation, set you apart from others and place you directly in front of your audience. All 'wins' in our book!
As Millennials are beginning to dominate the home-buying market, it's important for you as a real estate agent to get up to snuff in the digital age!
What exactly is digital marketing?
Digital marketing is the promotion of a business, service or product byways of new media. New media meaning websites, social media platforms, email marketing and search engine optimization.
What does this mean for real estate agents? You should probably be implementing a few of these tactics in tandem with a social media marketing strategy.
If you're fresh into the real estate game, you've likely been set up on your agency website, but when push comes to shove, you're responsible for gaining your clients, being trustworthy and providing an excellent experience for them.
How can a real estate agent implement digital marketing?
There are many ways a real estate agent can have a digital marketing strategy implemented for their business. Many of them will be determined by their personal objectives, but also by the type and location of client they'd hope to obtain.
Website.
First and foremost, we highly recommend a real estate agent to purchase a custom domain and have a website built just for them. This is the best and easiest way to market yourself as a business. A custom website gives you an open playing field for the voice you, as a brand, have.
With a custom real estate website you can share your expertise, advice and experiences through a blog. People relate to people. Your own website gives you the platform to do just that.
SEO.
Real estate agents should have an SEO marketing agency like us develop a strategy to drive quality website traffic. As great as a new website is, it's best when good traffic is coming to it. Traffic means leads. Leads mean sales. They go hand in hand!
An SEO marketing agency works to identify your target audience, what they're searching for online and a content strategy to encourage them to stay on your website. Not only does an SEO strategy boost website traffic, it helps your site become more visible in relevant search queries!
Social media.
A social media marketing strategy helps push your brand and home listings out into a social playing field. When you hire an expert to manage your social media, you can spend more time showing homes, building relationships, maintaining your clients and closing on properties.
It's important to recognize, however, that a social media marketing strategy isn't just to "sell sell sell". It's to also engage with your clients, see what's going on in the industry and to share your expertise as an agent.
Digital marketing is a beneficial and modern way to reach home buyers of all kinds. We'd love to find create ways to boost your web traffic as an SEO marketing agency and develop a social media marketing strategy that makes your brand stand out!
Share this post
Comments