Digital Marketing Trends of 2018
Digital Marketing Trends of 2018
/images/uploads/blog/2018_DIGITAL_MARKETING_TRENDS_OMAHA_MEDIA_GROUP.png
Omaha Media Group
https://www.omahamediagroup.com/images/uploads/monster_gallery/Omaha-Media-Group-Black.jpg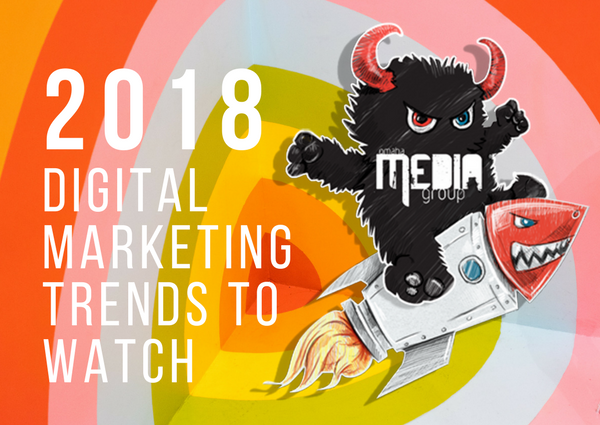 Digital marketing is one of the greatest revolutions in the world of marketing and advertising. It changed the entire perspective of traditional marketing and advertising and gave it a new dynamic. Digital marketing helped companies to reach out to its target customers and tailor their products according to customer needs and demands. Digital marketing enhanced customer service, feedback, and response and allowed companies to generate excellent return on investment or ROI from their digital marketing strategies.
Digital marketing is a field that is constantly changing and developing new trends almost every year. As 2017 draws to an end and we get ready to welcome 2018, here are some of the trends that will be taking over the world of digital marketing by storm.
Widespread use of chatbots
Slowly but surely, chatbots are making its way into becoming mainstream for a large number of people. Chatbots can be used for ordering products in a relatively simple and effective way.
In 2018, industries will be welcoming chatbots for carrying out complex transactions due to the instant responses provided by chatbots. This particular characteristic of chatbots is excellent for meeting the expectations of customers and can be used quite effectively in the growth of an organization.
Making effective use of micro-moments
Have you heard of the term snap decisions? Well, snap decisions are those decisions which are made quickly and impetuously. The content marketing team in Google, Think Google has declared these moments in which we make snap decisions an effective marketing tactic.
The concept of micro-moments is based on the fact that a large fraction of the people spends a lot of time on the internet. During the time that they spend on the internet, they are exposed to new products, new brands, new content almost every minute. This means that brands are constantly competing to get the consumer's attention. So the idea of micro-moments is for brands to make use of nanoseconds to impress their consumer.
In 2018, one of the major trends in digital marketing will involve a precise and thorough understanding of micro-moments and how they can be utilized to effectively promote your brand or product within the few seconds a consumer takes to glance at your content.
Personalized content
Ever since the evolution of digital marketing, entrepreneurs have begun to understand the crucial role that content plays in an effective marketing campaign.
The year 2018 will see a shift in focus to offering a personalized experience for users. This means creating more content that is centered purely around the customer. It involves reaching out to each customer. This will definitely improve marketing by a huge extent. But how can this be achieved?
Through a combination that makes use of dynamic websites and smart marketing automation tools. This combination will create a user rich experience where the specific demands and requirements of each individual customer are taken into exposed account. For instance, the message that is given to a new visitor and an existing user will be completely different. The message shown to a new visitor should have content that is powerful enough to engage and convert the visitor into a regular user.
These are the three trends that you will be seeing in digital marketing in 2018. Keep an eye out for them!
Let us help you stay on top of the trend! Contact us!
Contact Us
We want to hear from you, so what are you waiting for? Contact us today.
Get In Touch
Share this post
Comments