Digital Transformation: Hype Or Innovation?
Digital Transformation: Hype Or Innovation?
/images/uploads/blog/DIGITAL_TRANSFORMATION.png
Omaha Media Group
https://www.omahamediagroup.com/images/uploads/monster_gallery/Omaha-Media-Group-Black.jpg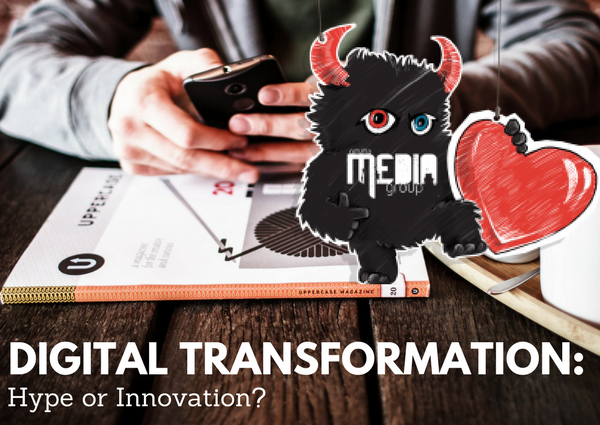 There's no escaping the fact that digitization has seeped into every possible sector. Whether as consumers or as industries, we have all been a part of the digital transformation wave. It's, therefore, important to understand how it affects us, what the risks and challenges surrounding it are, and telling it apart from just another fad by stating how it's here to stay. Here's breaking down digital transformation and its overall impact on businesses, individuals, processes, and culture.
How Industries Are Transforming Digitally
Right from cloud campuses and electronic wallets to online bookings for almost anything under the sun – there isn't a single sector which hasn't been digitally transformed in this day and age. The raging pace of competition makes every industry rethink their business model and marketing strategy over a period of time and come up with innovation to capture the target customers. And looking at the massive online consumption currently, digital transformation can arguably be called that very innovation which has taken the world by a storm.
But what does it really mean to digitally transform? It essentially means to break down the nuisances of every aspect of the business model – right from marketing and culture to people and processes – and with the use of technology and innovation, give it a digital makeover; to create a model where the essence remains intact but the product appeal undergoes a technological transformation to create more demands.
Is It Simply Digitalization? Not Really!
Digital transformation isn't merely confined to a marketing strategy or capturing the online space for a profitable business model – it means gauging the impact of digital technology and its application in all aspects of the human society. Hence, it is important to distinguish digital transformation from digitalization, where not only the processes are affected by a digital makeover, but it also has a societal impact. For digital transformation, the organizations need to factor in the challenges posed by the consumer behavior and apply the technological changes accordingly in each and every aspect of the production and marketing.
Digital Disruption A Reality
Unless someone's been living under a rock, it's difficult to not only have witnessed digital transformation all around us but also be a part of it. And which is why it is important to concur that digital disruption – as part of digital transformation – is for real. With the recent demonetization in India, digital disruption has reached even to the rural, remote areas in form of electronic wallets, net banking, and other online transactions. So there's no turning away from the fact that it is more than just a passing fad – it's serious business and is here to stay.
Improper Execution Could Turn It Into Just A Hype
Digital transformation's implementation largely depends on consumer behavior and its evolution, which in turn depends on their level of awareness and adaptability. The major challenge before businesses is to execute a digital transformation in a way that it aptly captures and targets the customer base – by educating, effectively communicating and raising awareness to their own advantage.
What do you think about the Digital Transformation wave? Let us know!
Contact Us
We want to hear from you, so what are you waiting for? Contact us today.
Get In Touch
Share this post
Comments