Five trends in our industry for 2020
Five trends in our industry for 2020
/images/uploads/blog/Omaha-Media-Group-Blog-11.18.png
Omaha Media Group
https://www.omahamediagroup.com/images/uploads/monster_gallery/Omaha-Media-Group-Black.jpg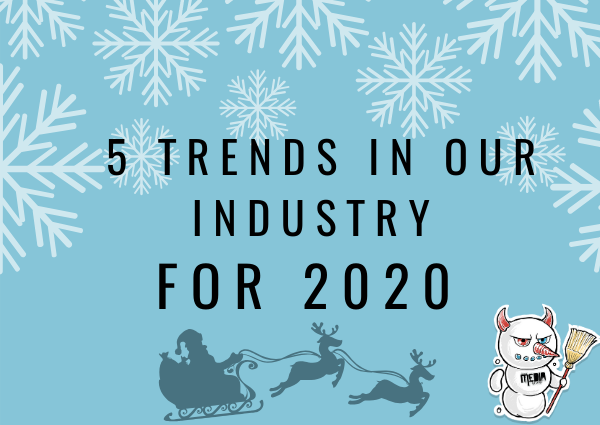 The landscape of our industry is constantly changing. One moment there is a Google Core Update affecting one in 10 search results and the next website design is taking elements from years ago and reutilizing them with today's strategies. It can be a lot of information to figure out and know how to always stay on trend, but the best part is, you do not have to. Yeah, we said it.
Here are the biggest trends of the new year that Omaha Media group is researching and going to start implementing in the new decade.
One of the biggest trends for website design is, "less is more." The more complicated the website design and development gets, the harder it is for searchers to navigate the website. While a website that has tons of videos, images, content and plenty of pages might seem like the best idea, we warn you to stay away from this type of design.
Everything should be in about three clicks, if it gets to be more, it can start to be confusing to find the right content the searcher is seeking out. Along with the simplicity of design, illustrations and animations are taking place of videos. This is because videos can slow down a website, and in a world of short attention spans, the longer a website takes to load the less someone will wait.
"Alexa, find us the best creative management firm in Omaha!" It has been estimated that 50 percent of all search queries will be conducted with a voice search assistant in 2020.
When voice search assistants were introduced in the market, there were skeptics, just like with any new technology on the market. However, it is estimated that by 2020 over $40 billion worth of voice assistance such as Google Homes and Alexa's will be sold.
With this in mind, there are a couple of different options for companies to not only rank with desktop and mobile, but also with voice search.
A company should add conversational content to their website. This should have natural questions and language as much as possible. If you are thinking, "So, we need to completely change all of our content." The answer is no you do not. It is as simple as adding some questions to your content or adding a FAQ page that is there solely to answer those FAQs that voice search assistants will seek out.
Forever and always be mobile friendly. This is no longer an option for any company. In July, Google released their mobile-indexing first update that all brand new websites will be indexed first if they are mobile friendly. Did you just launch a brand new website within the last six months? Is it responsive for all platforms? Is it mobile-friendly? Is it optimized for search? What about the design? All of this matters. If a website is designed poorly on mobile, consumers will click out of it.

Consumers trust other consumers and that is a fact. It is estimated that 55 percent of consumers trust user-generated content over other types of marketing efforts. What is UGC? UGC is content that consumers publish on social media channels and the internet for free,because these consumers love your products or services. It is honest and it is real. The good, the bad and the ugly are all part of UGC.
Why is this so important? AdWeek found that 85 percent of users say visual UGC is more influential in their decisions than brand-generated photos or videos. Think about it, it makes sense. Of course a company will post about how great their services are or how wonderful they are against Joe Schmoe over there, but at the end of the day, it's about what others are saying about your content on the Internet!
We do not have any UGC to even post?! Ask for testimonials, quotes, ask for others to review your company, have them tag you on social media, send email blasts asking for feedback and be authentic. Authenticity is all part of UGC because it is honest. No one is being paid to write wonderful things!

It is estimated that 54 percent of consumers WANT companies to post videos. The old saying goes, "content is king" but video is coming for its spot. Consumers want to see video because it tells a story, provides them with large amounts of easily consumable information and can be watched anywhere.
There are several different styles of videos from how-to's to UGC but no matter what the video is about, consumers want to see companies produce more of it.
One of the most common trends that is happening is the process of making lives a bit easier with Artificial Intelligence (AI) and automation! Robots will not take over the word yet, so watch the Terminator in a couple of years. AI has transformed into a different concept that what was traditionally thought of when it came to AI. the most common systems in place are Chatbot and automation systems that allow for a traditional system such as reporting to be automated. On average, two out of three consumers are already using AI and automation without even knowing it.
Contact Us
We want to hear from you, so what are you waiting for? Contact us today.
Get In Touch
Share this post
Comments