Four digital marketing goals to set
Four digital marketing goals to set
/images/uploads/blog/Omaha-Media-Group-00.00-Blog__2.jpg
Omaha Media Group
https://www.omahamediagroup.com/images/uploads/monster_gallery/Omaha-Media-Group-Black.jpg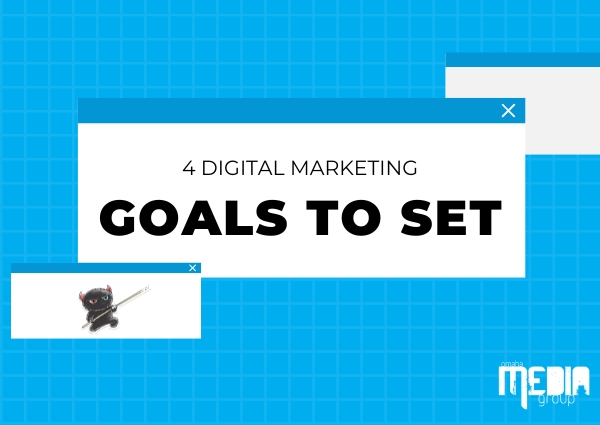 The first step to creating a successful digital marketing strategy is learning how to set SMART goals. SMART stands for specific, measurable, achievable, relevant and time-bound. Digital marketing Omaha professionals suggest setting goals that will help you ensure you reach your objectives within a certain time frame.
Where some companies struggle is learning which digital marketing goals they should be setting. Which goals will give them the best results they are searching for? That is why our digital marketing Omaha team put together this guide on which marketing goals you should set this year.
Four digital marketing goals to set
Increase brand awareness
Brand awareness is getting your customers to recognize your brand. It takes a person five to seven impressions to recognize your company logo. You want people to recognize your brand so when they do need your product or service; they know where to look.
Some digital marketing strategies you can use to increase your brand awareness include search engine optimization (SEO), pay-per-click advertising (PPC) and social media marketing. A few examples of SMART goals for brand awareness include:
Increasing Instagram followers by 5% each month

Increasing ranking on certain keywords each quarter

Gaining X amount of new email subscribers
Increase ranking on search engine results pages
A digital marketing goal that companies should be striving for is increasing their ranking on search results. Why? Well, 95% of search traffic goes to the first page of search results. That means that most people do not go past the first page to look for results. If your website is showing up on the second or third page, you are losing potential leads to competitors.
A digital marketing strategy to increase ranking on search results is SEO. If you are already doing SEO, then you should make sure you are updating your website to fit Google's current algorithm changes. Here are some SMART SEO goals you can set for your company:
Increase organic traffic to your website by 10% each quarter

Improving ranking on 10 keywords each quarter
Increase website traffic
The benefit of increasing your website ranking is gaining more website traffic. Getting more people on your website can increase the likelihood of them doing business with you. You can increase your website traffic by sharing your pages on social media, using SEO or doing paid search.
To keep people on your page, include internal links through your website and a call-to-action, so people know what actions they should take next. Some SMART goals to set for increasing website traffic include:
Increase website traffic by 15% this quarter

Improve PPC click-through rate (CTR) by 5% this quarter
Increase brand engagement
What good is starting a conversation with someone if they are not responding? The same thing goes for digital marketing. You want your audience to engage with your brand, whether that is leaving reviews, commenting on posts or subscribing to your email list.
You can increase your brand engagement by adding social listening and engagement to your weekly marketing requirement. Some SMART goals to set for increasing brand engagement are:
Responding to 95% of new social media comments and reviews

Increasing your email subscribers by 5%
Let a

digital marketing Omaha expert help you set these goals!

At Omaha Media Group, our digital marketing experts can help you set and achieve your digital marketing goals. We can streamline your social media, email marketing and SEO under one umbrella. Contact us today to learn more.
Contact Us
We want to hear from you, so what are you waiting for? Contact us today.
Get In Touch
Share this post
Comments