Happy St. Patrick's Day 2016!
Happy St. Patrick's Day 2016!
/images/uploads/blog/omg-stpatricksday.png
Omaha Media Group
https://www.omahamediagroup.com/images/uploads/monster_gallery/Omaha-Media-Group-Black.jpg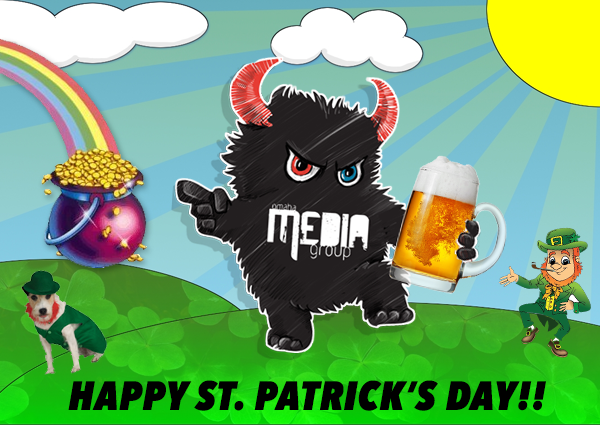 Just a friendly reminder that the OMG Offices will be closing early at 1:00 PM Thursday March 17th in celebration of Saint Patrick's Day or the Feast of Saint Patrick (Irish: Lá Fhéile Pádraig, "the Day of the Festival of Patrick").
St. Patrick's Day is a cultural and religious holiday celebrated on 17 March. It is named after Saint Patrick (c. AD 385–461), the most commonly recognized of the patron saints of Ireland.
Saint Patrick's Day was made an official Christian feast day in the early seventeenth century and is observed by the Catholic Church, the Anglican Communion (especially the Church of Ireland), the Eastern Orthodox Church and Lutheran Church. The day commemorates Saint Patrick and the arrival of Christianity in Ireland, as well as celebrating the heritage and culture of the Irish in general. Celebrations generally involve public parades and festivals, céilithe, and the wearing of green attire or shamrocks. Christians also attend church services and the Lenten restrictions on eating and drinking alcohol are lifted for the day, which has encouraged and propagated the holiday's tradition of alcohol consumption.
Saint Patrick's Day is a public holiday in the Republic of Ireland, Northern Ireland, Newfoundland and Labrador and Montserrat. It is also widely celebrated by the Irish diaspora around the world; especially in Britain, Canada, the United States, Argentina, Australia and New Zealand.
Learn more about St. Patrick's Day here
Contact Us
We want to hear from you, so what are you waiting for? Contact us today.
Get In Touch
Share this post
Comments