Martin Luther King Day in Omaha
Martin Luther King Day in Omaha
/images/uploads/blog/martin-luther-king-day-omaha.png
Omaha Media Group
https://www.omahamediagroup.com/images/uploads/monster_gallery/Omaha-Media-Group-Black.jpg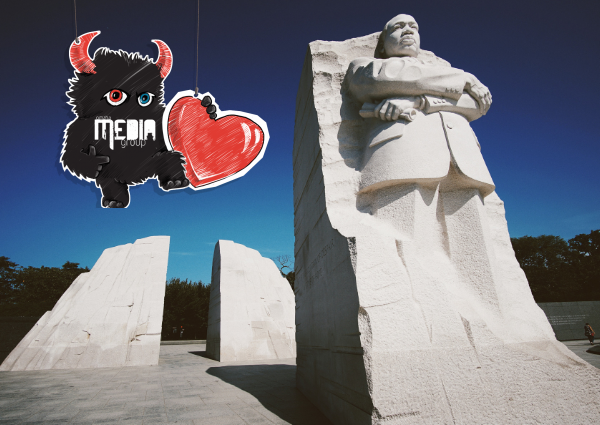 Today we are honored to celebrate Martin Luther King, Jr. Day. This American federal holiday is observed every third Monday of January to honor one of the most influential civil rights activists in American history.
Martin Luther King, Jr. was a brilliant man sparking change, love and equality. While many businesses across Omaha remain open on today's holiday, there are still ways you can celebrate and honor the birthday of Martin Luther King, Jr.
Educate.
For many of us in the workforce, history class was "a while" ago. Race in across the country is taught in a variety of ways, so do your best to have a good understanding of why there's a day dedicated to Martin Luther King, Jr.
If you're the YouTube type, here's a nice video on Dr. King's life.
Do good.
Giving back to the community is always welcomed, appreciated and mentally rewarding. Spend the day volunteering with your favorite nonprofit. If your office is open for the day, take a timeout with your co-workers to clean up the neighborhood around you. Take donations to a shelter or serve warm meals to the homeless.
Martin Luther King, Jr. was a man quick to serve. Follow his example.
Go Local.
If you're in the Omaha area, there are a few opportunities to explore on this Day of Service!
Open Door Mission
The Open Door Mission is accepting volunteers at the Timberlake Outreach Center (2107 E. Locust St., Omaha) to help sort, organize and store donations. Volunteers of all ages and backgrounds are highly encouraged!
The Open Door Mission helps individuals and families break the cycle of homelessness and poverty. They help provide warm meals and safe shelter for the men, women and children of Omaha.
UNO Office of Civic and Social Responsibility
TheUNO Office of Civic and Social Responsibility is hosting a Signature Service Day at the UNO Barbara Weitz Community Engagement Center (6400 South, University Drive Road North, Omaha).
All ages are welcome to volunteer and encouraged to dress for dirty, hard work. For more information, visit their Facebook event page.
Abide Omaha
Abide Omaha is hosting a Day of Service at the Better Together Campus (3223 North 45th Street, Omaha). This nonprofit is aimed to improve the inner-city through developing healthy neighborhoods, building community, family support, housing and partnerships.
This event is kid-friendly and plans to work on projects inside the Better Together Campus. For more information on their service event, visit their Facebook event page.
We're anxious to see the Omaha community get involved today! How are you giving your time to serve?
Contact Us
We want to hear from you, so what are you waiting for? Contact us today.
Get In Touch
Share this post
Comments