Omaha Media Group holiday hours
Omaha Media Group holiday hours
/images/uploads/blog/Omaha-Media-Group-12.23-Blog_%281%29_.jpg
Omaha Media Group
https://www.omahamediagroup.com/images/uploads/monster_gallery/Omaha-Media-Group-Black.jpg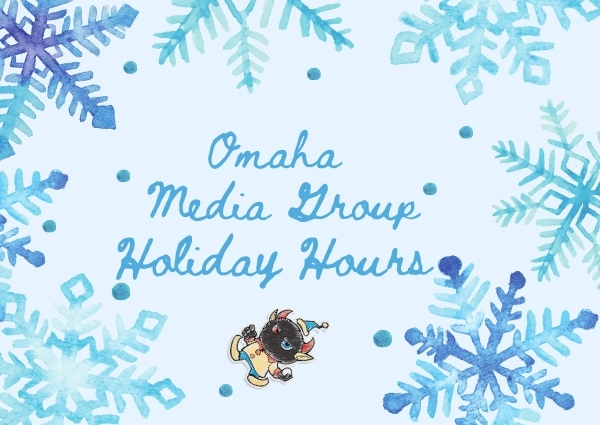 At Omaha Media Group, this holiday season we are truly blessed to have the opportunity to work from home during a global pandemic, continue to help our clients and remain as safe as possible. It is truly a blessing and this year, we are honored to continue to work with our clients and have the wonderful staff that makes Omaha Media Group so unique.
We wish everyone a happy, healthy and prosperous holiday season!
Our management office, development teams, and marketing experts will be on Christmas vacation beginning at 12:00 pm CST on Thursday, Dec. 24 until Monday, Dec. 28. We will have limited support available throughout the week, with our entire team returning on Monday, Jan. 4, 2021.
All marketing and website development tasks not assigned prior to 10:00 a.m. CST, on Wednesday, Dec. 23 will be scheduled in the order received following the holidays.
Should you need customer support, you're encouraged to create a helpdesk ticket via the email address provided to you within your support package membership.
Our on-call support engineers will assist you in the order your inquiry is received.
As we all try to navigate a holiday season that is very different from previous years, please keep in mind that you are not alone!
There are various ways to still hold family traditions from years past with a simple facetime, google meets or even Zoom call. Make sure to send this over to grandma, grandpa and any loved ones to help them navigate Zoom calls.
With this in mind, make it fun with an ugly Christmas sweater, eat your meals virtually to feel like you're all together and play a virtual game or two. Go see the best light shows in the Omaha Metropolitan area and drink some hot cocoa.
From our family to yours, we wish you a safe, healthy and blessed holiday season and new year. Once Dec. 31 at 11:59 hits, let's all yell "jumanji" and get the heck out of 2020 for good!
Cheers to 2021
The Monstrous family
Contact Us
We want to hear from you, so what are you waiting for? Contact us today.
Get In Touch
Share this post
Comments