PART 1: The best books during quarantine to read this Summer!
PART 1: The best books during quarantine to read this Summer!
/images/uploads/blog/Omaha-Media-Group-07.01-Blog__1.jpg
Omaha Media Group
https://www.omahamediagroup.com/images/uploads/monster_gallery/Omaha-Media-Group-Black.jpg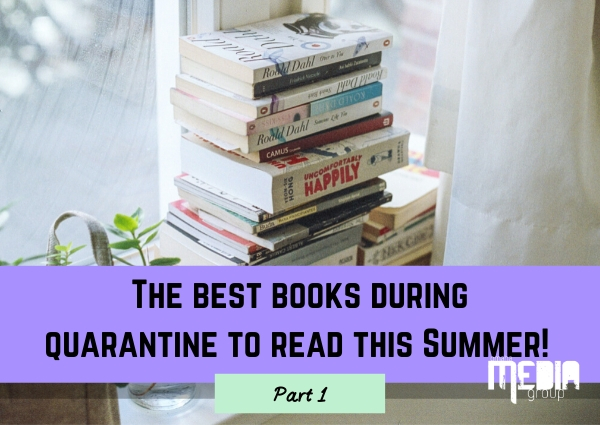 Reading is not for everyone, and that is okay, but every once in a while it could be helpful to your overall mental, emotional and physical well-being! From personal development, leadership to parenting and children's books, each different book has its own unique benefits behind it without us realizing it! Reading a book not only helps with vocabulary skills for adults and children alike, but also helps with depression and anxiety!
Feeling stuck? Maybe a self-improvement or personal development book could help with a new strategy or outlook in life? Want to escape reality for a bit? How about fiction books with warlocks, fairy tales and Games of Thrones type of series! There is a book for everyone out there!
At Omaha Media Group, our employees enjoy reading a wide range of books and series, with this in mind, we wanted to share some of the best books during COVID 19 that our employees have enjoyed!
Here are some of the top books for children and adults this Summer to add to your best books during quarantine list!
Children books
Parents, you might have been reading the same book for the last 15 weeks each night, give one of these children books a try tonight! It could be best for everyone!
"If You Give a Mouse a Cookie" is a classic children's book that many of us have heard as a child ourselves and there is a reason this book continues to be so popular! Children and adults are able to relate with this book because they can realize the needs of the mouse, the boy and understand the arts of patience and learn more about compassion!
"The Very Hungry Caterpillar" NPR reports that every 30 seconds someone purchases this children's book! Since its original release in 1969, it has been sold over 500 million times and translated into over 60 different languages across the world! This hungry caterpillar will eat his way through the pages of the book and land right inside of your home!
"Llama Llama Mad at Mama" is a children's book that is all too real for parents. Raise your hand if your kid has thrown a temper tantrum in the grocery store, on the way there or back? "Llama Llama Mad at Mama" is about one small llama who does not want to go grocery shopping with her mama llama, but in the midst of the temper tantrum, mama llama realizes that shopping needs to become an enjoyable experience for everyone! This shows mama llama and baby llama the art of teamwork and emotions.
Fiction books
"The Woman in The Window" is a psychological thriller like "The Girl on The Train" and "Gone Girl" that leaves you wanting to learn more about this character and what is happening in their lives! These are the types of books that are hard to put down once you read a couple of chapters!
Anna Fox lives in her New York City apartment alone and gets new neighbors across the street, and the family seems to be the perfect family, but it is not what it seems to be!
"Lazarus" is a science fiction graphic novel series about a future where the world is divided and controlled by 16 corporations, aka a utopian that turns into a dystopian! There are handfuls of families who control everything, and in a post- apocalyptic mafia story world, there is an uprising from almost- immortal ninjas!
As the plot thickens and the series continues through its six volumes, the story progresses and continues to leave you wanting to read more about what will happen!
"Warlock Holmes" is a twist on the classic novel "Sherlock Holmes." Warlock Holmes is someone who needs a bit of help from Dr. Watson. Warlock Holmes is a comedic escape from life with his associate Dr. Watson. These two are great characters together!
"The Silent Patient" is another psychological thriller that is one of our monster's favorite books out there. It keeps you on your toes and throws incredible twists throughout the entire book that you will never expect! Alicia Berenson's life is pretty normal. A beautiful home, a great husband and a wonderful career, but Berenson has a dark side that her therapist cannot get enough of.
"Animal Farm: A Fairy Story" is a famous satire from the Soviet Union in the 1940s during the revolution in the Soviet Union about animals who are tired of their owners and all come together to revolt against their owners. The dictatorship known as Napoleon is overthrown and the experiences of the other pigs are highlighted throughout the book.
As anyone can see, our monsters have been reading a range of books during this quarantine! This is not a comprehensive list of the best books during quarantine, but a great start for the best books during COVID 19 to add to your list!
Contact Us
We want to hear from you, so what are you waiting for? Contact us today.
Get In Touch
Share this post
Comments