Pinterest Analytics: Improving Your Marketing
Pinterest Analytics: Improving Your Marketing
/images/uploads/blog/PINTEREST_ANALYTICS.png
Omaha Media Group
https://www.omahamediagroup.com/images/uploads/monster_gallery/Omaha-Media-Group-Black.jpg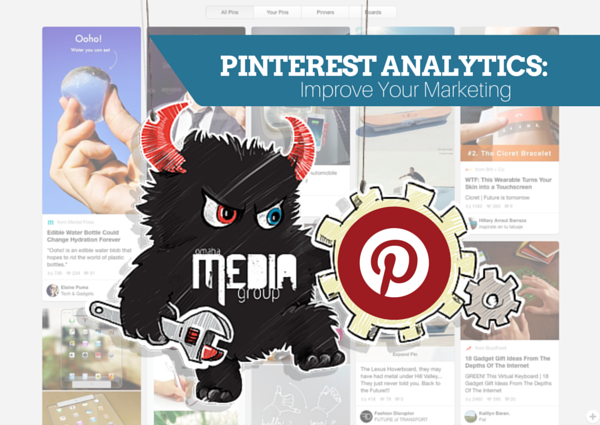 Earlier in the week we gave you 11 easy tips to optimizing your Pinterest account. Let's follow up that post by diving into how you can improve your marketing via Pinterest Analytics.
1. Identifying your competition
Competition on Pinterest comes in varying forms. Generally, businesses selling the same products or services as your company, which populate your audiences feed, are considered your competition.
Within your Pinterest Analytics you'll find a list of larger brands that your audience also engages with. Sift through their content and look for trending content items.
It's important to ask:
What messages are being delivered to your audience?
What do you like and dislike about their boards and pins?
What can you do to mimic their content or do differently?
What are ways that your pins can stand out?
2. What device does your audience prefer?
Segmenting your analytics by app or device gives you insights into how many people are using Pinterest on a desktop computer versus on their mobile phone or tablet. Understanding how pins and boards look on each device is beneficial to optimizing your boards and pins.
It's important to ask:
Are any pins performing better on certain devices and why?
Are the pins sized appropriately? Are they too tall or short?
Is the text readable on a smart phone?
Do the colors in your pins catch your eye?
Are your pin descriptions appealing and make you want to click for more information?
3. How are people organizing your content?
One of biggest ways your audience can engage with your pins is by repinning them. This is a sure sign that your audience has seen your pins and finds them interesting. With Pinterest Analytics you are able to find the top boards that contain a large quantity of your pins. Under the Interests tab followed by the Your Audience, you're able to view the Boards section. Under this section you'll see how your audience is organizing your content and actively pinning it. By studying how your pins are being organized by your audience, you'll be able to get a better idea of how people are thinking of your brand.
It's important to ask:
Do you like how your audience is thinking about your brand and pins?
Do you think your audience's perception of your brand is correct?
If your audience's perception is inaccurate, what can you do to change it?
4. What are the interests of your audience?
In marketing, it's essential to understand the audience you're trying to reach. In Pinterest Analytics, navigate to the Interests tab under Your Audience. Here you'll find an overall view of your audience's interest. Study these interests and establish if there's a way to incorporate them into your Pinterest marketing strategy. By creating content that appeals to your audience, you will increase the chances of them engaging in your pin and sending traffic to your website.
It's important to ask:
Are my audience's interests relevant to my brand?
How can I incorporate their interests in my content?
Will creating content with these interest create engagement?
5. Use your powerful pins
In January of 2016, Pinterest started promotional pins allowing businesses to gain greater exposure and engagement. Promoted pins are, "Pins that businesses pay to appear where [users are] more likely to notice them."
Under Your Pinterest Profile dashboard, you're able to view your all-time top pins. Recognizing these power pins as engaging, you can refine your pins for future promoted content.
It's important to ask:
Are the images for your power pins engaging?
Do your power pins have a color pattern?
Is there a shape pattern to them?
Do your power pins include words?
Do they have a theme?
Are your titles search engine-friendly?
Pinterest's Analytics are pretty straight forward if you know where to look and how to use the information it gives you. By using these strategies you're able to curate your content and future marketing.
If you need help creating a Pinterest marketing strategy, contact us today!
Contact Us
We want to hear from you, so what are you waiting for? Contact us today.
Get In Touch
Share this post
Comments