Social Media Trends that Will Change the Game in 2018
Social Media Trends that Will Change the Game in 2018
/images/uploads/blog/social-media-trends-for-2018.png
Omaha Media Group
https://www.omahamediagroup.com/images/uploads/monster_gallery/Omaha-Media-Group-Black.jpg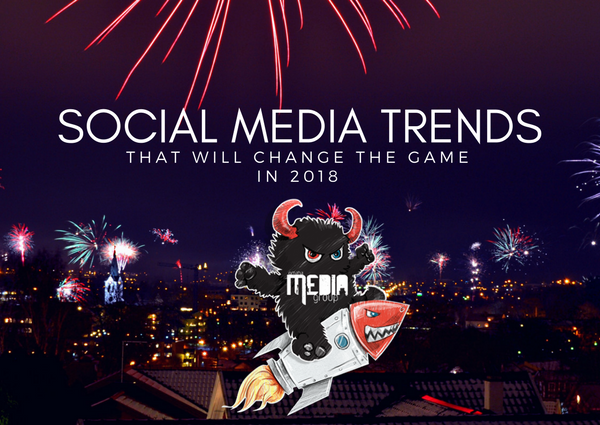 Social media has been in the marketing world for a while now. It has certainly grown as a channel for distributing content, reaching a wider audience, and increasing brand awareness. But most of you may be wondering what happens in 2018? Will social media continue to grow at this pace? Or will undergo a complete transformation? Nobody knows anything for sure because rules of the game keep changing.
What 2018 has in store for social media?
If you want to succeed in the highly competitive world of social media marketing, you need to be up-to-date with the latest trends. The following are a few of them that are expected to change the social media game in 2018:
Video becomes the focal point
Talking about social media content, video marketing is expected to take the center stage in 2018. social media video get 1,200% more shares than image and text posts combined. Snapchat and Instagram Stories will continue to be important video sharing platforms. It was also found that people remember 95 percent of an advertising message when they see it as a video. As such, video content assumes an integral part of a brand's social media strategy.
Social messaging apps on the rise
Social media apps are used by four billion users around the globe. As such, it isn't surprising for these apps to become important communication platforms for brands. Social messaging is predicted to be a part of every online interaction, and about 2 billion users are predicted to use over-the-top (OTT) messaging apps by 2018. The ability of social media apps to provide real-time interactions is what driving its popularity, especially among millennials. So, it's time that you start using social messaging to talk to your customers.
Chatbots will change customer service
Chatbots through Facebook Messenger has already started exerting their influence. There are more than 100,000 monthly chatbots active on Facebook Messenger, facilitating the exchange of about two billion messages between consumers and brands. The best part of chatbots is their personalized approach to customer service. They help brands send personalized content directly to users and also tweak their brand voice. If you haven't tried using chatbots for your brand, 2018 is perhaps the time for you to do so.
Social advertising might become costlier
You can't help but invest in social media because it is so important for your brand's promotion. Compared with traditional media, social media is much more cost-effective than television ads or radio ads. But as the competition has increased, cost of ads have also increased, which is seen to be 12 percent every year. A study revealed that average CPC has risen 136% in 2017. As such, you can't help but increase your social media budget in 2018.
Social analytics will drive content strategy
Lastly, social analytics is likely to become more robust, providing in-depth information about the kind of content preferred by people. This is likely to give brands more opportunities for content personalization. As such, it will become easier for brands to craft content that is relevant to their audience. They will be able to engage audiences on a personal level and drive content marketing strategies to a great extent.
We want to be a part of your 2018 Social Media Strategy! Contact us!
Contact Us
We want to hear from you, so what are you waiting for? Contact us today.
Get In Touch
Share this post
Comments