Thanksgiving Message From our Founder, Brad Nietfeldt
Thanksgiving Message From our Founder, Brad Nietfeldt
/images/uploads/blog/A_Thanksgiving_Message_from_our_Founder.png
Omaha Media Group
https://www.omahamediagroup.com/images/uploads/monster_gallery/Omaha-Media-Group-Black.jpg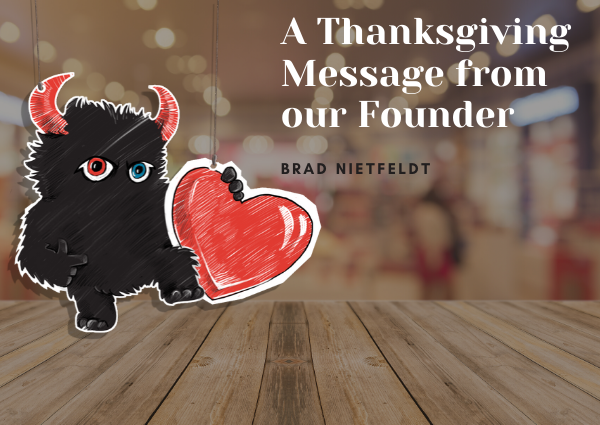 As I sit here preparing to devour our Thanksgiving feast, watch some Husker Football, and relax this extended weekend I also have been taking time to reflect on what I am thankful for, my Monstrous Family.
Our Monstrous Customers
There are many Omaha Web Design and Omaha Digital Marketing Companies, thank you for choosing us to work as an extension of your businesses. You are why we exist and we are so proud to get to work with you toward fulfilling your vision and mission.
Our Monstrous Business Partners
Thank you to all of you who help us provide our Monstrous solutions to our customers and allowing us to help support your largest clients. Together, we are proud for the facilitation of opportunities for our employees and support for our various communities.
Our Monstrous Employee Family
Thank you for all of the hard work and dedication each day to serve our customers making our company what it is. Thank you for the never ending generosity and willingness to rise above and beyond, both on the job, but to help leave our communities better than we found it.
Thank You!
Without our entire family, OMG would not be where we are or who we are today. From the bottom of my heart, I wish you all a Happy Thanksgiving and a bright future.
In Gratitude,
Brad Nietfeldt
Contact Us
We want to hear from you, so what are you waiting for? Contact us today.
Get In Touch
Share this post
Comments