The 4 Rules To Increase Mobile Engagement
The 4 Rules To Increase Mobile Engagement
/images/uploads/blog/Omaha-Media-Group-12.01-Blog_.jpg
Omaha Media Group
https://www.omahamediagroup.com/images/uploads/monster_gallery/Omaha-Media-Group-Black.jpg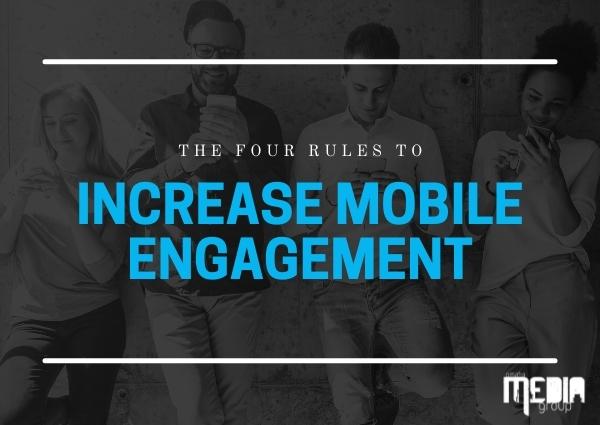 In a competitive landscape, it is important to design and develop an app that continues to produce mobile engagement throughout the lifetime of the platform.
What is user engagement?
User engagement, also known as product engagement, refers to the interactions between that user and the company's app. It can be as simple as logging into the app once a month to make their payment, a gaming app that needs constant monitoring, or a budgeting app that needs to be checked every couple of days.
The engagement for these apps will be different depending on the functionality of the app itself. A gaming app will have a different engagement rate than a banking app.
There are three different categories of user engagement when it comes to apps. There are all users, active users, and engaged users.
All users: All users refers to every user that has downloaded the app whether they are active or engaged.
Active users: An active user is a user that logs in or is currently active on the app, but isn't using the app as an engaged user. These two terms are often used interchangeably, but actually have major differences.
Engaged users: An engaged user is one that is using the app for its intended purpose. The user is going to the app X amount of times or days and completing tasks that are part of the engagement score.
While active users are great, engaged users are who tare important. This is because engaged users are retained users which helps growth.
How to increase mobile app engagement
Improving the customer experience
Our app development Omaha experts will continuously speak about customer experience whether it is regarding an app or a website. This is because, at the start of all products, the customer is the most important aspect to remember.
HubSpot defines customer experience as, "the impressions your customers have of your brand as a whole throughout all aspects of the buyer's journey. It results in their view of your brand and impacts factors related to your bottom line including revenue."
With this in mind, this is the perfect way on how to increase mobile app engagement.
Seamless onboarding experience
Our app development Omaha experts recommend that all SaaS platforms provide the best onboarding experience. Similar to a website's first impressions, a SaaS platform with a difficult or negative onboarding experience can see its active and engaged users decrease.
Research shows that three out of 10 app users are uninstalling apps within the first 30 days. The industry that is uninstalled the most within 30 days is entertainment.
Define feature and in-app enhancements
It is important to stay competitive in the industry because there are millions of apps on the market and to be the top ranking one in the app stores, it is important to continue to provide new updates and features.
While adding new features and updates can provide a better customer experience, at the same time, keep the updates and features to a minimum. If these elements are unnecessary, fix a bug and update the user versus changing items without solving other problems.
The art of push notifications
Push notifications are messages that pop up on a mobile device that nudges the user to continue an action or remind them of the action. These notifications are timely and relevant to the user, even if they are not on the app itself.
If a customer has abandoned their cart, this is a perfect opportunity to send a push notification reminding them of their cart, and maybe add a coupon code at the same time. It could be the determining factor of getting an engaged user again.
Learn more about push notifications here.
These are the four rules to help increase engagement on all SaaS platforms! If you are ready to get started with your new project, contact us!
Contact Us
We want to hear from you, so what are you waiting for? Contact us today.
Get In Touch
Share this post
Comments