The pros, cons, and other things you should think about before you create your own online dating app.
The pros, cons, and other things you should think about before you create your own online dating app.
/images/uploads/blog/pros-cons-of-creating-a-dating-app.png
Omaha Media Group
https://www.omahamediagroup.com/images/uploads/monster_gallery/Omaha-Media-Group-Black.jpg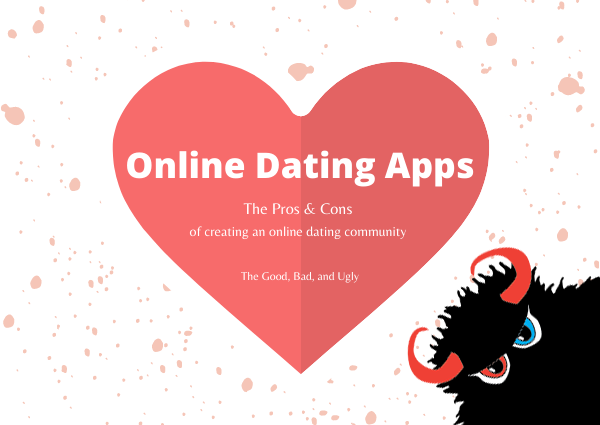 As Valentine's Day comes and goes, for some of the population so does love. Today online dating is a multi-billion dollar industry with many online websites, apps, and services offering online dating match-making.
Over the years, we've been contacted several times about making dating apps for various clients. Although online dating is not a new thing, many apps like Tinder, Hookup, Ashley Maddison, and other online dating sites have caused quite a stir up in how most people think when it comes to relationships.
The majority of entrepreneurs who contact us in regard to making online dating applications believe there's a valid pathway to getting rich-quick through their idea. However, like any application or online business, we like to analyze and provide insight to help make recommendations for any application that might assist a would-be entrepreneur think through their reasoning, as well as operating costs, application overhead, hosting, etc., before they make the investment. No matter what the industry opportunity, a sound technology plan can make or break a business of any size, especially a start-up.
To save you some time, or to point you down the online dating and hookup business landscape, we took the time to download and check out some of the up-and-coming online dating websites and applications to help you grasp the industry a bit better.
Tinder

Tinder is an online dating app that has become popular in the past few years. It allows users to see pictures of other people on their phones and then swipes right if they like what they see or left if they don't. With this model, online dating is treated as a game where you win by getting matches with people you are interested in talking to online.
Cons: The issue with Tinder? Too many choices can be overwhelming for most users and ultimately many people feel lonely because there are so many choices available online but it can be hard to connect with someone who lives far from your hometown. The digital age has made us all more connected than ever before which means we have access to millions of potential romantic partners at any time.
Pros: Yes, there are some pros to using Tinder. For example, the app is very user-friendly and easy to navigate. It also allows users to quickly swipe through potential matches. Additionally, since the app is so popular, you are likely to find more potential matches than if you were using a more niche online dating portal.
Bottom line: Many people think Tinder has ruined online dating because it cheapens relationships. When two people are able to chat with each other without ever meeting in person, it can lead to less meaningful conversations. Additionally, since Tinder is so popular, many people use it as a way to hook up instead of finding a serious relationship.
Ashely Madison

Ashley Madison is an online dating website and app that focuses on affairs. It was founded in 2002. The slogan of the online dating portal is ''Life Is Short, Have An Affair''. The online dating portal has been active for many years. It is one of the most popular online dating websites and apps in the world.
Pros: The advantage of the online dating portal is that it offers a large number of potential partners for its users. There are more than 50 million members on the online dating portal. This makes it easy to find someone with who you can have an affair. Another advantage of the online dating portal is that it is discreet. You can keep your profile hidden from other people if you want to.
Cons: One disadvantage is that not all members are serious about having an affair. Some people simply join the online dating portal for entertainment purposes only. This means that you might not be able to find someone who is serious about having an affair. Another disadvantage is that the online dating portal can be expensive. If you want to use all of the features on the online dating portal, you will have to pay a subscription fee. Let's not forget to mention, intent. Maybe money would be better spent on couples counseling?
Overall, Ashley Madison is a good online dating website and app for people who are looking for affairs. It has a large number of members and it is discreet. However, there are also some disadvantages to using Ashley Madison. You should consider the pros and cons before deciding whether or not to use Ashley Madison.
Down Dating App

Down Private Hookup Dating 18+ is an online dating application that like Ashley Maddison is about helping people meet for hookups. Like all online dating portals, it comes with a lot of pros and cons. Below we list down the top most used online dating apps in the world and how they help you connect to your next casual date.
Created in 2012, it has around 50 million users worldwide, with a big chunk of them coming from India (most likely fake). The app connects you with potential matches based on your location and preferences like age, gender etcetera.
Pros/Cons: Down works well for people who are interested in casual hookups but not so much for long-term relationships as most Indian women do not use Down unless they're looking for sex without commitment (aka something serious). Since it is a very easy way to meet someone new online, almost everyone uses Down these days even if they aren't really into casual encounters.
DateOmaha.com
DateOmaha.com is Omaha's oldest and largest locally owned and operated dating community. It was founded by our company's founder and was created as a free resource to allow locals to find meaningful relationships. DateOmaha.com gives its online dating match-making and communication services for free which is supported by local and national advertisers.
Like many of the entrepreneurs who contact us, DateOmaha.com was also created to create a revenue stream for a niche that hadn't been properly fulfilled at the time of its creation.
Today online dating is a multi-billion dollar industry with many online websites, apps, and services offering online dating match-making.
However, our experience in this niche has provided us with the insight that online dating is still a difficult process for many people.
Our online dating experts can help you decide if online dating is right for your business and how to best build and market an online community of any sort.
Plenty of Fish (POF)

POF is one of the largest online dating websites in the world, with over 100 million users. It's free to use and has a wide variety of features that make it easy to find matches for you. You can search by interests, location, and even how active someone is on the site. Plus, POF offers a number of different communication tools so you can get to know potential dates before meeting them in person. If you're looking for an online dating community that is fun, easy-to-use and has millions of members, POF is definitely worth checking out.
Pros: Like aforementioned DateOmaha.com, POF is free to join, huge number of users, exact basic profile information, different search option filtering, interest-based matching, relationship chemistry test, and many other free features. The site is pretty easy to use and does offer some better-paid member options such as featured and verified profiles helping to weed out the fake/scam accounts.
Cons: Although POF is loaded with many great free and paid features it is definitely missing a few popular features such as video chat option, no chatrooms, no id verification, a lot of ads, and limited features in the free account option.
Bottom line: Plenty Of Fish (POF). From the list above, it's clear that POF offers more benefits than drawbacks. This implies that POF is one of the best free internet dating services available.
Heavy Contenders
Thinking of making your own online dating website or app? Here are a few reasons why and why you maybe shouldn't:
The Pros
There are a few pros when it comes to online dating applications. The first pro would be that you can meet people from all over the world without ever having to leave your house. This is great for those who are shy or don't have the time to go out and meet people in person. Another pro of online dating apps would be that, because there's such a large variety of them, you're likely to find one that fits your needs exactly. If you're looking for something specific like religion or lifestyle choices, there's an online dating app for that.
The Cons
However, like with anything else in life, there are also cons to online dating applications. The biggest con is that it's easy to lie about things like height, weight, and age. This can lead to some very unhappy surprises when you finally meet someone in person. Another con is that online dating apps can be addicting. It's easy to get lost in the world of swiping left and right and before you know it, hours have gone by and you've accomplished nothing productive.
The bottom line
Overall, online dating applications are a great way to meet new people but they also have their downsides. If you're thinking of making an online dating app, make sure you weigh the pros and cons carefully before moving forward. And as always, if you're not sure what's best for your business, contact us – we'd be happy to help!
Contact Us
Have an idea for a dating or other application and want to weigh the pros, cons, and move forward to making it a possiblity? Contact us!
contact
Share this post
Comments