Website accessibility checklist!
Website accessibility checklist!
/images/uploads/blog/Omaha-Media-Group-02.05-Blog_.jpg
Omaha Media Group
https://www.omahamediagroup.com/images/uploads/monster_gallery/Omaha-Media-Group-Black.jpg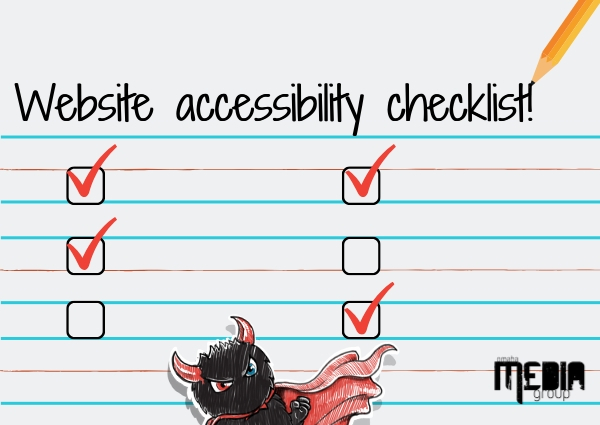 One could say that a buzzword of 2019 was website accessibility. This could be due to over 50 lawsuits against companies whose websites were not up-to-par with the American with Disabilities Act (ADA) accessibility standards, and because the internet is a public space, these companies should have been using a website accessibility checklist!
The ADA has two different standards- website compliance and accessibility. Even though it does not state this in Title III of the act itself, for a website to be ADA compliant it needs to be accessible. One of those scenarios where you can't have one thing without another.
This means a company's website needs to be compliant with the law and accessible for a person with disabilities.
The World Wide Web Consortium (W3C) also known as the WCAG (Web Content Accessibility Guidelines) also have set regulations and standards in place to help companies and small businesses make sure their websites are accessible to everyone searching on the Internet, but why does it seem as if accessibility is just being spoken about?
While a website accessibility checklist might seem like another taxing checklist that gets thrown to the side, it is imperative that a company creates one to make sure their website development agency is following these guidelines.
Keyboard navigation
For someone who does not have hand dexterity or ability to use a mouse, this person uses their keyboard to navigate the internet. This means that a website should allow this person to use their arrow keys to navigate the site. Also, this person might even be using assisted technology that needs a bit of help like Google does for SEO. Tell the technology where to go.
Content
Content is one of the most important things on a website, but for someone with a disability, this is even more critical. Content is king still to this day, and because of this, a website needs to make sure its content is optimized with the following checklist:
Capitalization

H1, H2 and H3

Lists or bulleted points

Audio descriptions on videos and multimedia

Simple is better
Alt tags
Often times, someone with a disability will be using an alternative technology that gives them the ability to search the Internet. This computer program or technology is an advancement that allows for independence; however, it does only read what is on the website.
An image is worth a thousand words and the images on your website are just as important as everything else. What is "IMG_098777(2)."? Alt tags are there to help describe the image in the best detail as possible to anyone who is on the website.
The Alt Tag can be as simple as (boy_reading_book.) Yup, that is it. For an infographic, you will want to create an alt tag or text that explains the entire infographic.
Headings
A heading can be the most significant part of a website for those using screen readers or other technology to search the Internet. This is because those technologies often read the heading and skip over the content. A clear and easy to understand heading will be what the technology reads, so the next time you create headings, keep your friends in mind.
Those quick and grabbing CTAs that are all over the website are critical for accessibility. If the CTA is "click this link to hear or learn more" and the person has a visual impairment that makes it difficult to find said link, how do you think that will go? It is important that you tell consumers EXACTLY where to go even for those who are sighted with a disability. (Hint: even for everyday Joes, tell them where to go.)
We have all been to a website and have no idea where to go, even when the website tells us where to.
Contrast
In all of our research, contrast was the single most spoke about when it comes to website design and content marketing strategies for those with disabilities. W3G states that the color contrast needs to be 4.5 to 1. This is the background to and text. If the background is dark, the text has to be light enough to easily read.
Also, color alone will not help when it comes to differentiation main points and statements on a website because not everyone can see color. Instead, spend time creating and optimizing indicators that help those with disabilities to navigate through the site seamlessly. You still want enough contrast that someone with low vision or color blindness can tell exactly where that button is.
Here is the fully encompassing checklist set in place by the Web Content Accessibility Guidelines! Our company can help you construct the best website accessibility checklist for 2020!
Contact Us
We want to hear from you, so what are you waiting for? Contact us today.
Get In Touch
Share this post
Comments