Website Launch - Complete Transformation Magazine
Website Launch - Complete Transformation Magazine
/images/uploads/blog/complete_transformation_magazine_shot_1.jpg
Omaha Media Group
https://www.omahamediagroup.com/images/uploads/monster_gallery/Omaha-Media-Group-Black.jpg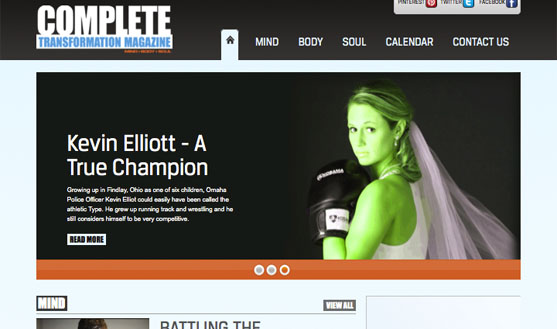 We are happy to announce the website launch of Complete Transformation Magazine.
Complete Transformation Magazine has literally taken Omaha by storm and is becoming one of the most popular print magazines available in our market. So it makes sense for them to search out one of the best creative management firms in the country, nay - world, to build them their online publishing technologies. They knocked on the door, we answered and have delivered a state of the art publishing engine to allow their editors speedy access to publishing stories, events, and other information to forward their print magazine to the web world.

Complete Transformation Magazine is currently moving on into their website as we are writing this so head on over and check it out. You might as well book mark the thing too because you will most likely want to make it a daily or weekly i-read.
Contact Us
We want to hear from you, so what are you waiting for? Contact us today.
Get In Touch
Share this post
Comments