Why are Both SEO and Quality Content Important For the Purpose of Building Traffic?
Why are Both SEO and Quality Content Important For the Purpose of Building Traffic?
/images/uploads/blog/BUILDING_TRAFFIC.jpg
Omaha Media Group
https://www.omahamediagroup.com/images/uploads/monster_gallery/Omaha-Media-Group-Black.jpg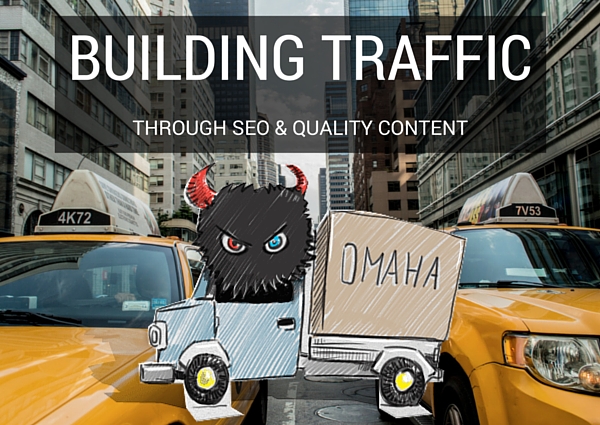 Are you confused as to whether or not content or SEO deserves greater attention? With so much palaver about search engines preferring one over the other, your confusion is understandable. However, they are both important; commendable SEO skills as well as the ability to produce likeable and rich content are equally essential skills that every content marketer should possess.
Yes, SEO and content marketing are not interchangeable terms but it is also true that one would be meaningless without the other. Gone are the days of writing pithy articles around one or two keywords to get a higher rank. Also, no content marketer can neglect the value of optimization if they really want to build traffic to their site or blog. The two should ideally overlap. Celebrated SEO and content marketing guru Neil Patel says:
"SEO states the requirements. Content marketing fulfills them."
What is the difference between SEO and content marketing?
SEO is more focused and technical. Content marketing is broader and involves both content as well as SEO. To get a good ranking from an SEO perspective, you will need a good crawl rate, clean HTML coding, a nicely designed sitemap, alt tags, Meta tags, hierarchical structure (i.e. using header tags like H1, H2, etc.) and also the use of well researched keywords throughout the content, especially in the heading; use the Flesch-Kincaid readability test to see how easy your content is to read. But all these strategies will fail if the content is thin or if your content is not creating high value over a prolonged period of time.
Which one should come first?
The ideal answer would be that both should come together. You need to do a proper keyword research related to a topic before you start forming the idea. But it is equally important that you try to understand from the communications with your target audience the problems that they are facing before offering them a solution through your content. If you create value, the backlinks, business and profit would soon follow. Trying to build content around popular keywords would leave you hamstrung and writing content based on just popular keywords may not create value for a lot of people; again creating content and then inserting keywords forcefully often distorts the natural flow.
How can you make them work together?
1. Creating fresh, high-value content - This is one way you can utilize the best of both worlds. Google doesn't provide high indexing to monotonous content these days. Content which is fresh, innovative and gives a lot of people reasons to come to reference it multiple times helps to index the page. So, from both SEO and content marketing perspectives, it makes sense. Evergreen content helps as it improves indexing because of the quality of backlinks it gets over a period of time and also drives traffic over a long period, acting as the anchor of your website.
2. Backlinks - If you can create good content which drives organic search, you can expect more backlinks from quality sites like .edu or .gov and also from your readers. This no doubt improves search engine ranking immensely. Guest posting on authoritative domains is a good way for linkbacks. But meaningless link sharing doesn't have much value these days.
3. Internal links - If you are serious about your ranking prospects, you cannot ignore internal links. It improves mobility within the website as well as drives traffic from content to another page within your website. It also allows search engine bots to deep crawl your website which is a measure for ranking. Of course, the links would have to be contextual. Make sure, you identify and remove the broken links in your site.
4. Measurements - Evaluating the performance of your content in terms of certain metrics like site traffic, keyword ranking and search volume, comment, sharing, subscription, backlinks, etc is vital. That is how SEO gets integrated into content to improve chances of hitting the bull's-eye.
SEO goals are important but they can't dictate everything. You cannot compromise the quality of your content for the sake of SEO. Remember, good content will help in organic link building which would automatically push up the ranks. You have to merge the two disciplines for best results. Need some help in doing so? We're pretty good at it 😉
Contact Us
We want to hear from you, so what are you waiting for? Contact us today.
Get In Touch
Share this post
Comments