Email drip campaign
Marketing drip campaigns
UPDATED: Why are drip email campaigns important to marketing efforts and how to write them?
/images/uploads/blog/DRIP_CAMPAIGNS.png
Omaha Media Group
https://www.omahamediagroup.com/images/uploads/monster_gallery/Omaha-Media-Group-Black.jpg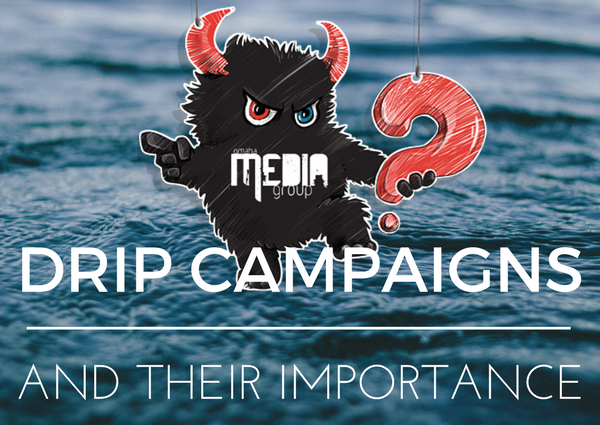 For every dollar that is spent on email marketing campaigns and systems, a company can typically find around a $38 return of investment. While email marketing is an old school marketing strategy, companies and marketers alike have been able to continue to find indisposable value to this marketing strategy.
Despite the continued rise in popularity of social media marketing efforts, companies continue to turn to email marketing campaigns to bring in qualified leads and results.
A great way to continue to bring in sales and leads that might have dropped off during the process is with an automated email marketing campaign with a number of emails sent based on action or in-action of a consumer.
This is known as a drip email campaign and can revitalize your email marketing strategies!
What is a drip email campaign?
A drip email campaign is a series of emails with predetermined and predefined messages that are sent to a prospect, a lead or a customer over a period of time and each email tries to build on the efforts of the one before it.
The main aim is to continue to familiarize the recipient about an idea, product and/or service in a way that makes them trust your brand to the point to take the desired action!
Also, the sequence and timing of each email in the campaign has to be thought out strategically because although the broad aim is to create familiarity and make the recipient graduate to the next step in the sales funnel or the next step in the conversion process, each email also plays an individual role as each gives a specific call to action.
How to create an effective drip email campaign?
1. Think about your short-term and long-term goals and create content that matches your aspirations and expectations
One of the most important aspects in any business or marketing decision is a strategic planning brainstorm set in place beforehand. No campaign can be successful without having a clear goal in sight. Identify your expectations and also what the prospect wants from you.
Clarify frequently through emails and analyze their responses to see if you are on the right track. Sometimes the reason an email is not being opened is from the content that is within that email, the subject line or even images!
It is important to understand that this campaign will be touching different aspects of digital marketing as well.
This drip campaign should have a landing page involved with it. This landing page should provide the necessary information of said campaign with the final customer journey destination. If the customer is signing up for a free webinar or signing up for a promotion, it needs to be on a landing page.
This email campaign should be shared across social media platforms with social media marketing strategies that your company has implemented. This helps to reach a larger audience and provide even more chances for a lead generation or goal accomplished.
This is why a strategic plan should be set in place to ensure that the drip campaigns are effective and other marketing strategies are falling into place with the campaign.
2. Maintain transparency and clarity
Your emails should clearly articulate your plan, what you expect from the client and what you want to offer.
While transparency is important and a growing trend in the marketing industry, how does a company maintain transparency that provides clarity. This means relevant and accurate messaging that provides a clear understanding of the message and its purpose to consumers!
A great example that shows transparency at its core is with small businesses that let their consumers know that launches are happening on X days and there is only limited product available. These businesses then explain the different ways that consumers can ensure they get the product they are searching for and that right there is the easiest form of transparency. This tells consumers that these products are in high demand, but there are only limited products available, so jump on as soon as you get the email notification!
Don't hold back critical information. The emails should be short in length, not short on information.
3. Use a P.S. in each of your emails
Only 16 percent of consumers read your email word for word, and are scanning for the most important information. A P.S. is a very effective way through which you can recapitulate the main message for the convenience of the reader. Even though drip emails are usually very short, recipients may not retain everything they read in the body.
However, a P.S. at the end summarizes or gives the main message again and thus reinforces the main points in the body. The effect of redundancies ensures that the message is clear and there are no other interpretations.
Drip emails are extremely important and can't be left out of your marketing efforts. Remember to set a goal and create a proper plan.
Contact Us
We want to hear from you, so what are you waiting for? Contact us today.
Get In Touch
Share this post
Comments