Why I Jump into Frozen Lakes for the Special Olympics of Nebraska
Why I Jump into Frozen Lakes for the Special Olympics of Nebraska
/images/uploads/blog/2017_SPECIAL_OLYMPICS_OF_NEBRASKA_POLAR_PLUNGE_BLOG.png
Omaha Media Group
https://www.omahamediagroup.com/images/uploads/monster_gallery/Omaha-Media-Group-Black.jpg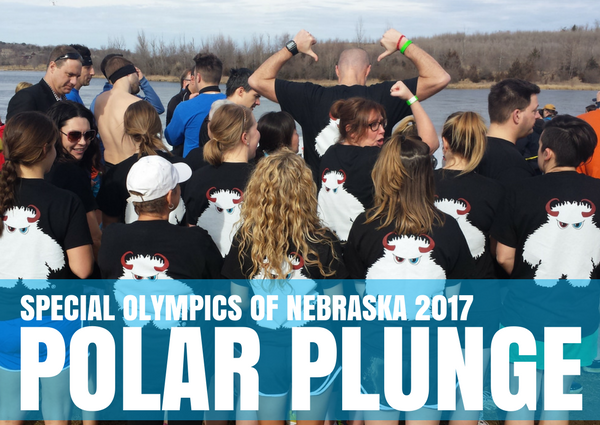 The Polar Plunge is something I was interested in doing for a long time. I'm not really sure why, it was just one of those things that I felt I had to do at least once while I was still young. I just never went out of my way to find an opportunity to actually do it.
In January of 2012, my wife and I had just become parents for the first time. Our good friends, Luke and Angie, had gotten pregnant for the second time right after we did so we were all baby buddies for that period of time. Our daughter was born just two weeks before their son, Erik. Shortly after his birth, Luke and Angie were told that Erik had Down Syndrome. They took everything in stride and decided to make the most out of the situation. One of the things Luke decided to do was the Special Olympics of Nebraska Polar Plunge. I lept at the opportunity to participate as well. So, in February 2012, I plunged into Lake Cunningham for the first time. And yes, it was cold! I didn't raise a lot of money that year and I wasn't even sure if I would do it the next year.
Our daughter started daycare not long after that and we found a great little place called Cozy Lil' Cottage in Papillion. We call them our daycare family. Jen, the owner, had a brother named JD who had Down Syndrome. JD and his Cubs shirts, motorcycle magazines and Dr. Pepper were a common fixture at the daycare, where he spent time with his vast array of daycare provider girlfriends (most of his time was spent trying to make sure one "girlfriend" wasn't aware of the other).
In January 2013, JD passed away unexpectedly. Shortly after, my daycare family kept asking me if I was going to do the Polar Plunge again, so I quickly decided to sign up again. JD affected a lot of people in his too short life. His wake was standing-room only with lines out the door. His funeral was almost as packed. Through my daycare family, I started receiving a lot of donations through my Polar Plunge account to go to the Special Olympics of Nebraska. Most of these were coming from JD's friends and family, many who I had never met. That second year I was one of the top 10 fundraisers in the event, through very little effort of my own. My daycare family showed up to cheer me on as I ran into Lake Cunningham for a second time. And yes, it was cold.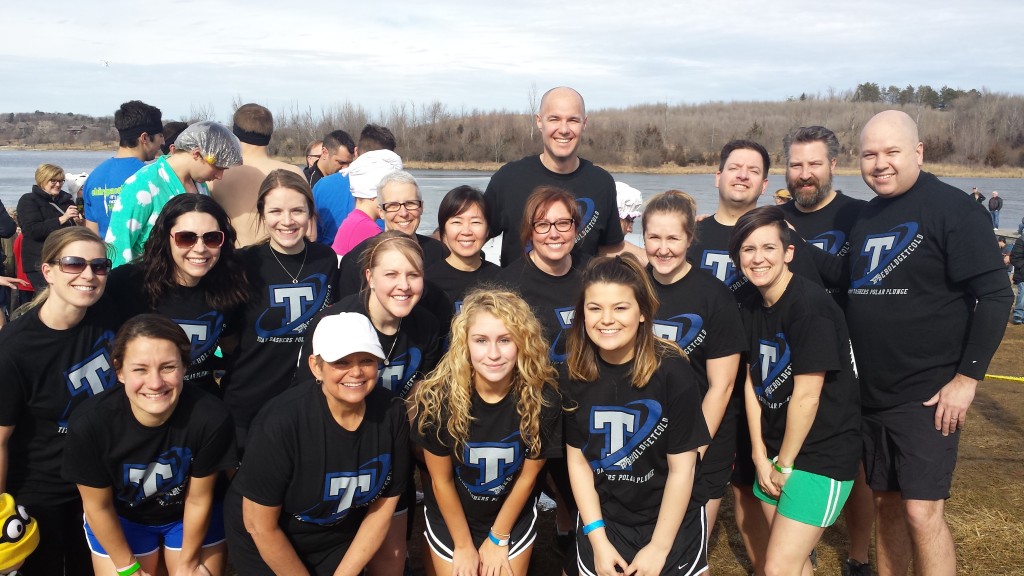 We've been able to keep this up year after year. I just plunged for my 5th time. I keep getting asked why I seem so excited about running into a frozen lake. I don't even know where to begin: For the cause, for Erik, for JD, for the support of my daycare family (who still come out and record me doing it), for the challenge of it, for the thrill of it, for the cathartic feeling it gives afterwards, for the costumes, for the camaraderie you feel doing something very stupid with a bunch of other people, so that my kids can laugh at the look on their dad's face when he emerges from the water, yadda yadda yadda. I could go on and on. It's become an important event in my life each year.
I think that everyone should do it at least once. I don't think you've lived until you run up a muddy hill while you're soaking wet and you're trying to get to the heated tent before all the water on your body turns to ice. Even if you never do it, at least go watch one and donate a little money to someone who is. Then sip your hot cocoa as you watch a bunch of screaming, shirtless people throw themselves into ice water. Either way, I guarantee you'll feel good afterwards.
Contact Us
We want to hear from you, so what are you waiting for? Contact us today.
Get In Touch
Share this post
Comments