Alexa Rank Not Worth Worrying Over
Alexa Ranking isn't needed
Worrying About Your Own Alexa Ranking Is A Waste Of Time
/images/uploads/blog/why-worrying-about-alexa-rank-is-a-waste-of-time.jpg
Omaha Media Group
https://www.omahamediagroup.com/images/uploads/monster_gallery/Omaha-Media-Group-Black.jpg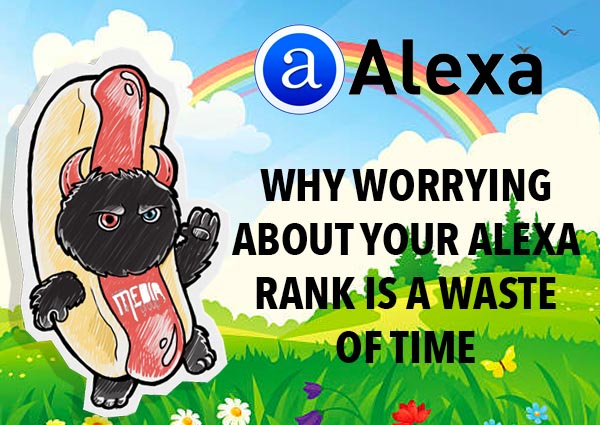 The truth about the Alexa ranking
Alexa's traffic statistics tool is a global ranking system that records traffic data then displaying it in an organized list. The Alexa Ranking List.
Alexa pulls in audience demographics and other statistics along with bounce rate, page views per visitor and time on site. There are a few other data points they collect but we'll not worry about those for the purpose of this blog article.
Wow, Alexa, thank you for tracking everything. It all sounds great, but where does the data come from?
In short, Alexa's toolbar(s). Alexa has a toolbar/browser extension that shows Alexa Traffic Rank, related links and a few other pieces of data. In-conjunction with around 25,000 different browser extensions Alexa collects it data.
And while most people think of Alexa purely as a traffic ranking tool, it does a lot more.
They offer a fully-fledged SEO & competitive research toolsets where appears to have some useful tools such as:
Audience overlap tool
Competitor keyword matrix
Keyword difficulty tool
SEO audit tool
And more
Obsessed with your Alexa Traffic Rank? Stop!
We see a ton of bloggers and other website owners asking how to move their site up Alexa's list but what we want you know is you're asking the wrong question. All of the ranking in Alexa's toolsets among others, is 100% determined by the total amount of traffic your site gets.
Using logical reasoning if you're focused on driving more traffic to your site, that your ranking will improve. The actual ranking process on average takes 90 days as Alexa uses the last 3 months of traffic to calculate rankings.
In fact, we've seen so many people focus solely on their traffic ranking that they completely stopped focusing on what matters most, their business. So we urge you, don't fall into the same trap. Stay focused on your business.
Note - Alexa posted their own myths about their ranking, highly recommended reading. Top 6 Myths about the Alexa Traffic Rank
The Bottom Line:
If you want metrics on your own website – don't use estimated metrics from a tool like Alexa.
Use a fully fledged analytics platform such as Google Analytics or SEMRush.
Note: Alexa has a post on some popular myths about the platform, well worth a read.
Conclusion
Alexa ranking of your own website isn't anything to fret over. Your rank will always naturally improve as your traffic increases. This comes from
Good unique content
An optimized website experience, and
High-quality links back to your website resources.
Since you are in control of your website, use a dedicated analytical tool like Google Analytics or SEMRush. This will give you access to a more complete set of data that isn't estimated.
Google Analytics is a great option and it's completely free. Clicky, or SEMRush are other options which have less of a learning curve.
If you want to get some insights on your competitors – SEMRush and SimilarWeb can give you some useful insights that make sense to use them, especially because you won't have access to their analytics. Keeping in mind, the data these toolsets provide are estimated in most cases. Sites can claim listings to get more accurate data, but each tool usually mentions which sites have estimated data.
And, whatever you do – don't use tools that provide estimated data to inform big decisions, IE Alexa. For example, if you're considering the purchase of a website you should definitely request access to their analytics.
If you have any Alexa specific questions please contact us, we'd love to assist where we can. Agree, disagree? Let's here why… put in your two cents in the comments section below.
Contact Us
We want to hear from you, so what are you waiting for? Contact us today.
Get In Touch
Share this post
Comments