10 Ways Client Feedback Can Help Your Business
10 Ways Client Feedback Can Help Your Business
/images/uploads/blog/feedback.jpg
Omaha Media Group
https://www.omahamediagroup.com/images/uploads/monster_gallery/Omaha-Media-Group-Black.jpg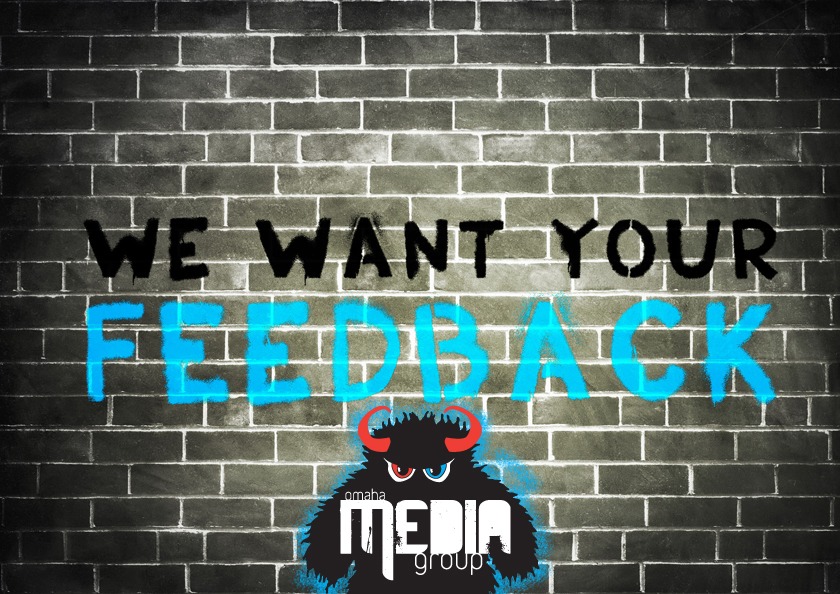 Asking for client feedback can seem confronting. In fact, many, if not most of us, would prefer not to know at all rather than be faced with the reality that a client didn't like our services. There are so many reasons to find out what your clients think of you. At Omaha Media Group, we call our clients our Monster Family. We welcome any and all feedback and often, we use our clients as references for prospective clients to help build rapport and credibility. Here are 10 ways that client feedback can actually help drive your business forward.
It can force people to take a different view. Research suggests that asking people for their opinions can induce them to form judgments that they otherwise wouldn't. For example, they may be forced to think properly about your services and conclude that they really do like it. These opinions can then influence behaviors even months later – just the act of asking your client for feedback can deliver a broad and sustained positive impression. It shows you genuinely care and strive to improve.
It can build your brand awareness. Client feedback provides an opportunity for you to increase your client's awareness of your company's services and the type of clients you work with. As a result you can better position your company for future engagement or recommendations.
It can reinforce positive thoughts and feelings. Client feedback surveys appeal to client's desire to be valued and listened to. This reinforces positive feelings they may already have about the surveying company. It builds a deeper long-standing relationship between company and client.
It can allow others to get recognition. Clients like to give feedback on individuals because it allows them to praise good work and recognize individuals – especially those in support roles. Normally if praise is due, people are excited and willing to provide it to those most deserving.
It can reveal valuable intelligence. If a client loves your work then feedback surveys can often deliver great insights about your competitors or other service providers. They will compare the great service experience they have with you to others and let you know where they went wrong.
It can give you a sounding board. If a client is representative of your market or your 'typical' client relationship, then face-to-face feedback session can provide the perfect opportunity for you test ideas or sound out one of your business strategies.
It can provide insights for future growth. If a client is atypical then a feedback discussion gives you both an opportunity to talks about how you came to meet and why you chose each other. Perhaps this path can be replicated for future work.
It can help contain badmouthing. If a client wasn't happy with your services, then a feedback discussion can give them an opportunity to table their issues and help contain any negative word of mouth.
It can put down a marker. A feedback discussion can be a transition point in your relationship. After you have debriefed about a transaction you may then find the opportunity to talk about future plans.
You'll become a better business. You'll learn lessons from client feedback you can share with other clients. You'll build a bank of stories to share to help you establish rapport with a wider range of individuals.
It is equally important to gather feedback about the overall relationship with your company and on the good or service rendered. Do not dwell on the negative, but rather work toward improving your business for greater success. Good and bad feedback drives your business forward in many positive ways. Additionally, prospective clients may ask for references to decide whether they want to do business with you. Its great to have positive testimonials at hand from happy clients to build new relationships with your prospective ones.
Contact Us
We want to hear from you, so what are you waiting for? Contact us today.
Get In Touch
Share this post
Comments