2016 Google Algorithm Ranking Factors
2016 Google Algorithm Ranking Factors
/images/uploads/blog/2016-seo-ranking-factors.png
Omaha Media Group
https://www.omahamediagroup.com/images/uploads/monster_gallery/Omaha-Media-Group-Black.jpg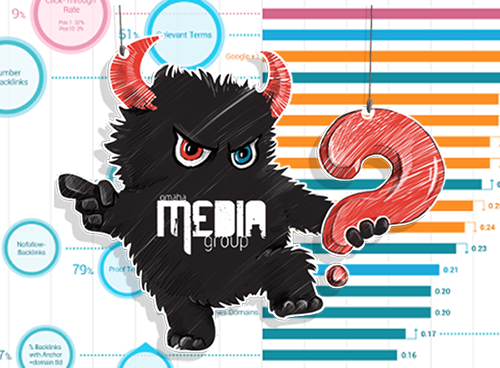 It's common knowledge that since it's debut in 1998 Google's algorithm has undergone dozens of significant changes. And yet, the main factors that cause a website to rank are largely the same today, in 2016, as they were back in the day (links, original content, and meta page titles). The majority of the updates to Google's algorithm have been in the service of finding low-quality SEO tactics in order to bring sites that genuinely have basic ranking factors to the top of the results. But these aren't the only criteria Google uses. In this guide, I dissect the algorithm, listing each factor in order of its importance.
Google Search Engine Context
The thing that truly made Google special, differentiating it from the other search engines that existed in the 1990s such as HotBot, Altavista, Webcrawler, and Lycos, was that its algorithm was based on factors that were outside of a website owner's control. The other search engines' algorithms were based on the number of times a given keyword was written on a website.
If a lawyer, for instance, wrote "personal injury lawyer san diego" a thousand times on his website, he would quickly rank at the top of the search engines for that keyword. Google's algorithm, in contrast, was based on the number and quality of references to your website that appeared on other websites. (References which, when clicked, bring you to another website, are called "links".) And so, no matter how many times you wrote a keyword on your website, you couldn't rank on Google unless other webmasters deemed your site interesting enough to reference it.
Google's Revolutionary Algorithm
Google's algorithm was no small innovation in the world of search engines; in fact, it was nothing short of revolutionary. Whereas the algorithm of the other search engines was equivalent to an election where the candidate who makes the most promises wins, Google's algorithm was equivalent to a democracy, where the candidate who receives the most votes from the populace wins. Getting "elected" to the top of Google's search results can only occur when your site has earned credibility in other people's eyes. That's the genius of Google's algorithm.
While links remain the most important ranking factor for the Google search engine in 2016, there are many other factors which, when considered in aggregate, make up an important slice of the algorithm.
Google's 2016 SEO Rank Factors
Here is the breakdown of Google's algorithm based on our analysis of 150 websites, ranging from brand new websites to some of the largest sites on the Internet, over the past 12 calendar months:
Good Quality "Real" Links: 29%
Regular production of original content: 23%
Keyword-rich meta page title tags: 8%
Mobile & tablet responsiveness: 8%
Existence of conversion-optimized landing pages: 8%
Clean code: 6%
Site speed: 5%
Social signals: 4%
Age of site 4%
Keywords listed on page: 2%
Keywords in URLs: 2%
Keywords in meta description tags: 1%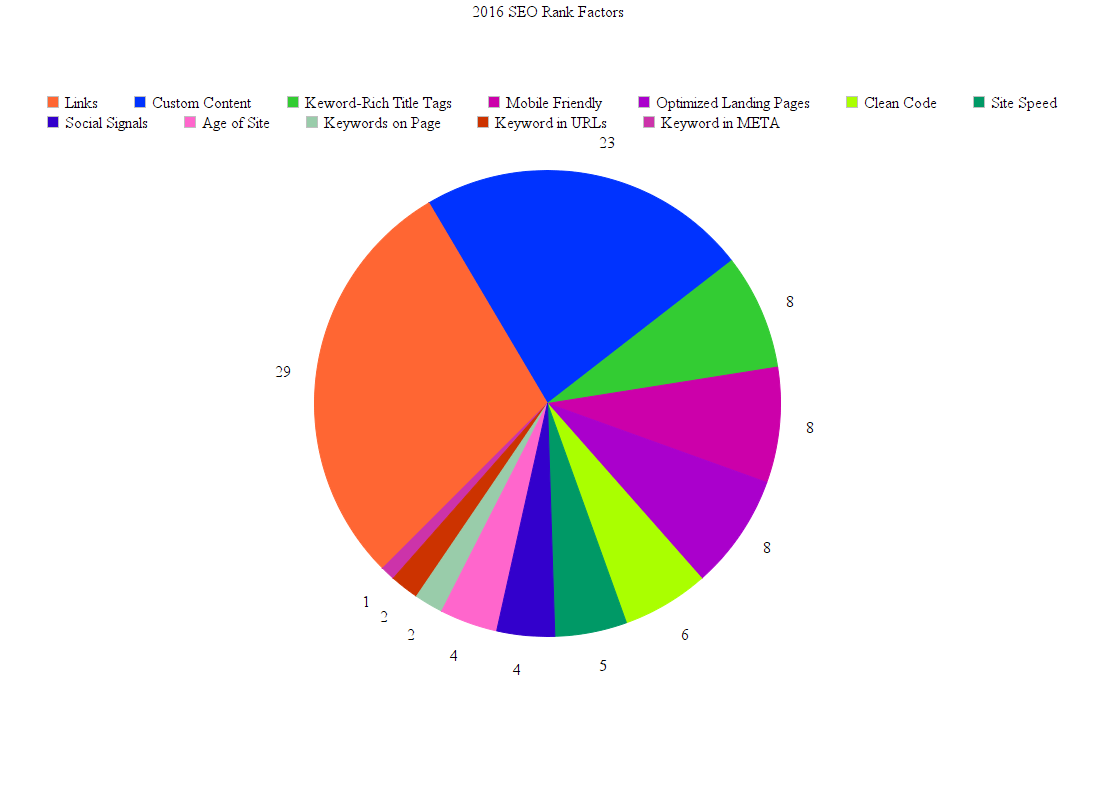 Because simply looking at the ranking factors in order is not enough to understand how to craft a marketing strategy, we have listed some qualitative observations we've made about how to use these factors to your advantage:
Before worrying about the bigger factors, get the easy stuff out of the way. In the same way that some collages and university courses have prerequisites – classes you need to have taken in order to sign up for advanced classes – before you can outrank your competitors on Google, you need to have the basics taken care of:
First, your site has to have clean, orderly code, as opposed to sloppy code that gives Google's "spiders" more work to do. If you're an OMG client, we preach this from the highest of mountaintops (CLEAN SMALL CODE FOOTPRINT).
Second, the pages on your site should load immediately. Duaaaah! Have you heard the term "Happy wife, happy life"? Well, same principle, "Fast site, happy life."
Third, each page should be clearly labeled with the keywords that will help Google searchers understand what is on that page. (The "labels" the lables we are referring to are the meta title tag, the URL of the page, and the meta description tag.)
Fourth, if you add the keyword meta tag then make sure the keywords should actually appear on the page and in a natural way. Do not keyword stuff!
Most of these prerequisites can be accomplished simply by building your website in Expression Engine or another CMS that is known to be SEO-friendly. We also like WordPress, but for security, easily development flexibility, and other reasons stick to Expression Engine.
Now our website is SEO-friendly, we create original content, and regularly. A great rule of thumb that we've found very successful is to publish 2-3 articles each week on your website. Doing this simple thing and you will be able to watch your traffic rise and pretty quickly. Why? Because it's new, custom and original content. Now knowing what we know about basic SEO from above we remember that our articles need to have good titles that match what potential customers would be looking for. They also need to be original and genuinely interesting. Why? Well, don't board your audience for starters but put yourself in their shoes - do you want to read a boring article? No! A great portion of our business here at OMG exists because we've found a very efficient and effective way to create original content production every week. If you can figure out how to manage and do this small amount of work, you've gotten the hardest part out of the way.
Link building the natural way. When you truly have excellent content you'll find that people will tend to link back to it. Of course, you most likely won't find htis happening immediately but over time. In fact, some of the best campaigns we've ever done have only seen links to naturally occur after 6-12 months. If you keep on pumping out excellent and original content on a consistent basis you'll find the links will in return come. in, over time. One of the most effective methods of doing this is by posting your content on the various social media channels out there (Facebook, Twitter, Quora, Linkedin, Google+, Instagram, Pinterest, etc.). Sending newsletters are also an effective way to get the links coming in. In a short while you'll find that links will naturally start to come in, usually while you're sleeping because you've done a fantastic job and done the heavy lifting in creating custom and creative content.
Very important!! Never cut corners to get links. Never purchase them, never add them via a directory, never distribute them across a low-quality article network, link them inside a press release or other artificial link building methods. They not only do not work well, but can be very harmful to your website. We see it time in and time out, people buy backlinks and get their site into a terrible situation search wise and then they come crawling back to us for help. Stick to the basics, you'll be doing yourself and your website a favor.
Social signals are natural, learn to love them. Let's face it, social signals can be a bit of a mirage - they usually don't matter as far as much as people think they do. This is because Google not having enough social data to truly accomplish social search. This most likely will come in the future as the search engines better integrate with social searching but for now, social signals aren't that great or accurate. Like links in general, social shares, favorites, votes and links tend to arise from a genuine desire to share excellent content, or creative content. People will share what they like or are interested - you can't force it. See why creating excellent content is so important?
A mobile friendly website is extremely important! In April of 2015, Google finally made the switch to its algorithms' ranking factors by making sure websites were mobile friendly. Why? Well if you look at your website stats we bet the majority if not half of your website's traffic is mobile. Google gifts the user experience because their brand depends on it, and so does yours. So if you've been putting this off, stop! Make your website mobile friendly, right now!! Need help? Contact us,we'll help!
Make your website easy to browse for every kind of user matters. One of the ways Google has evolved over the years is reading your website more thoroughly to insure it delivers a relevant experience for every reader/searcher. This means having a lot of landing pages is a great idea and you should have seperate pages for users to land on for every single service or product you offer. This doesn't matter which industry you're in, it applies to everyone! Wow, this sounds tough you say. Not really, just think of it this way, you need to be your competition! You do this day by day, not all at once. If you offer many different solutions or products, think of breaking each out into their own mini website. You're customers will thank you and Google will reward you for it.
2016 SEO Rank Factors Summary
It's truly amazing - Google's algorithm has come a long way since 1998. Despite the fact that Google's ranking factors haven't changed too dramatically, it still has come a very long way since its creation. Google Search expects you to earn your high ranking by doing a stellar job at marketing your users' experience natural, custom, and excellent. This isn't a hard thing to do and it needs to be done! Any good business owner would do this anyway and its what Google requests.
Need Help? We'd Love to Help!
We do realize that time is money and most business owners do not have extra time to put toward their search. For this reason we would be more than happy to assist you in your Google Search endeavors. Give us a holler and let's talk about your project. You'll be happy you did!
Contact Us
We want to hear from you, so what are you waiting for? Contact us today.
Get In Touch
Share this post
Comments