301 Vs. 302 Redirects: Deciding the Better of Two for SEO
301 Vs. 302 Redirects: Deciding the Better of Two for SEO
/images/uploads/blog/301-vs-302-FOR-SEO-OMAHA-MEDIA-GROUP.png
Omaha Media Group
https://www.omahamediagroup.com/images/uploads/monster_gallery/Omaha-Media-Group-Black.jpg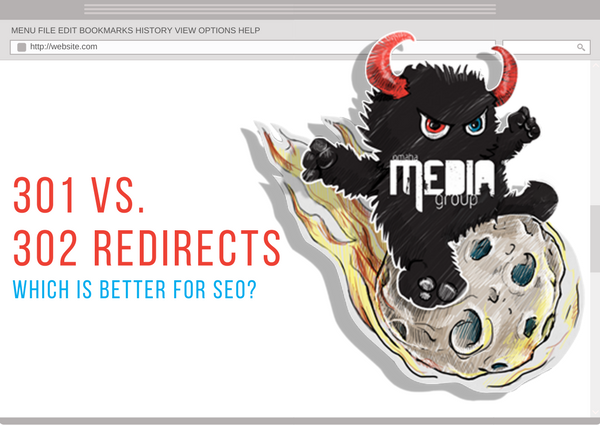 Often, while browsing, you might have come across a common code that reads "Error 404". This is what is called an HTTP response status code and indicates the response of the web server to the URL that has been requested.
HTTP response status codes instruct both search engine crawlers and the browser on how to handle the request. HTTP response status codes are also called redirects and interestingly, they can be utilized for better SEO.
Redirects are used to indicate to the search engine crawler that a specific content or URL has been moved to a new location. A 301 redirect tells the crawlers that the page has been permanently moved to another location while a 302 redirect indicates that the page has been temporarily moved.
Which redirect is better for SEO?
301 redirects are used when domains or URL structures have been changed. A 302 redirect is commonly used by e-commerce platforms to direct the user to a category page if a specific product that the customer is looking for is not currently available.
We have already said that redirects can be used for search engine optimization. In such a case, is 301 redirect or 302 redirect better for SEO?
The answer is simple. 301 redirects are better for SEO.
This is because, with 301 redirections, the only aspect that changes is the URL structure. In theory, 301 redirects a page to the exact copy of the page that existed before and this means there is no traffic loss as such. In addition, using 301 redirects ensures that the changed URL of the page shows up in the search engine results.
301 redirection codes are most commonly used in cases where the application protocol is being changed from HTTP to HTTPS. In such cases, 301 redirects provide security.
With 301, link juice or the site value is transferred to the new page along with the visitors and bots on the page.
With 302, bots and visitors are transferred to the new page but the link juice is left behind.
Also, with 301 redirects, any changes that are made to the old page are saved and transferred to the new page.
In addition, 301 redirects improve the Google ranking of a webpage by adding the new page to the index while removing the old page.
302 redirects simply tell the user that the page is temporarily not available. Although 301 redirects are better for SEO, there are some instances in which 302 redirects are important. For instance, it can be used to test the functionality of a webpage and also to get a feedback on a new page without showing any impact on the site ranking.
In 302, since search engines are told that the page will return shortly, all inbound links are directed to the old page and not the new page. This can lead to a loss of traffic if unmonitored.
In short, it can be said that 302 redirects strip a web page of its value and this can, in turn, have an adverse effect on the SEO of your page.
Do you need a website built? Let us design one for you!
Contact Us
We want to hear from you, so what are you waiting for? Contact us today.
Get In Touch
Share this post
Comments