5 Reasons Why Social Media Campaigns Fail
5 Reasons Why Social Media Campaigns Fail
/images/uploads/blog/why-social-media-campaigns-fail.png
Omaha Media Group
https://www.omahamediagroup.com/images/uploads/monster_gallery/Omaha-Media-Group-Black.jpg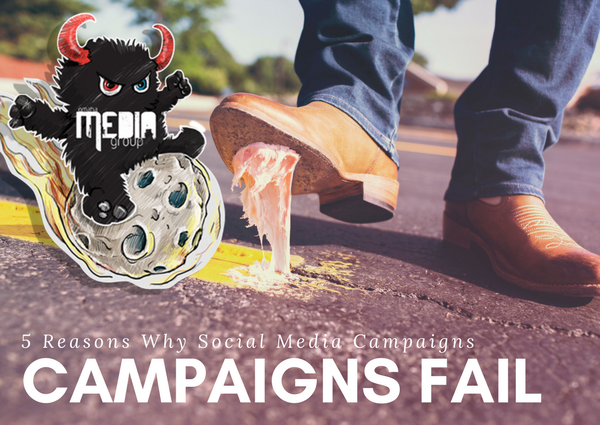 How to measure the success of campaigns on social media?
There's no surefire way to social media success. The reason is very simple: social media is an ever-changing medium of communication. What works for one brand may not work for the other. As such, no brand can be sure of their strategies until a campaign rolls out.
Given the dynamism of social media, it's not always possible for brands to keep pace with change. They may have set goals much before running a campaign. Sadly, it's not always easy for them to achieve these goals. However, you can measure the success of your social media campaign by answering the following questions:
Did your campaign generate engagement?
Did new users subscribe to your content after the campaign?
Were you able to get revenues after running the campaign?
If you have answered no to the above questions, perhaps something went wrong in your execution.
Mistakes that lead to a campaign's failure
It's not uncommon for marketers to goof up while running campaigns on social media. Such mistakes can have a huge impact on the campaign's success. It's important that they know these mistakes and learns from them:
Wrong targeting
Social media has made targeting a lot easier for marketers. But it's up to the marketers to define their target audience clearly before running the campaign. Just merely uploading a post and sharing it will not give results. The message needs to reach people who would be interested in your brand. Make sure you define your target audience on the basis of their location, interests and other factors before investing in any social media ads.
Providing irrelevant content
Your content is the most important factor determining your campaign's success. Providing content that's not relevant to the target audience can prove disastrous for your campaign. Make sure your social media content is precise, rich in imagery and information, and conveys the right message to the audience. It should be original, clear, and interesting.
Ignoring analytical data
You can't ignore the power of social media analytics and data in driving your campaign's success. When you ignore data, you miss out on key insights that could have worked well for your campaign. Make sure you leverage data to measure the performance of your content on social media channels. It will help you identify loopholes and add more value to your marketing strategy.
Wrong choice of platforms
Just being on social media doesn't mean you will do well. You need to be on the right platform in order to reach out to the right audience. Some marketers tend to invest in platforms that don't house their target audience. As such, it's natural for social media campaigns to bomb. Make sure you identify your audience on different platforms and choose only those channels where your brand is likely to be more visible.
Inconsistency in communication
Last but not the least, marketers make the mistake of not following a posting schedule on social media. Consumers expect regular communication from brands. In order to stay relevant to people, brands have to engage and interact with them on a constant basis. Make sure you frame a proper posting schedule and stick to it properly.
Do you need help creating a social media plan that can easily be tracked via analytics? Let us help you!
Contact Us
We want to hear from you, so what are you waiting for? Contact us today.
Get In Touch
Share this post
Comments