5 Ways To Integrate Social Media Into Your Marketing Strategy
5 Ways To Integrate Social Media Into Your Marketing Strategy
/images/uploads/blog/integrating_social_media_into_your_marketing_plan.png
Omaha Media Group
https://www.omahamediagroup.com/images/uploads/monster_gallery/Omaha-Media-Group-Black.jpg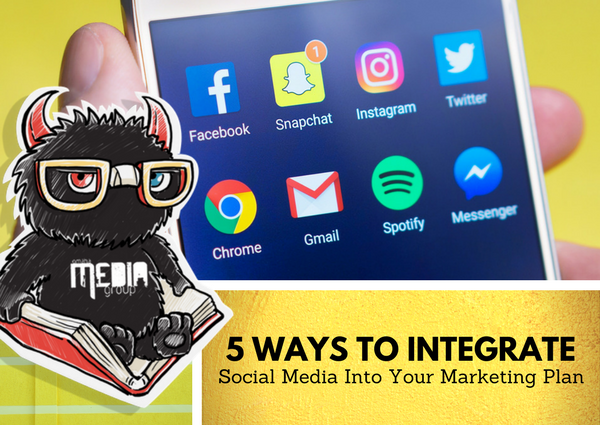 Social Media Is Game-Changer For Brands
Ever since social media channels such as Facebook, Twitter, Instagram, Pinterest and a few others came into being, marketing has stepped up to a whole new level. As these channels became a destination for consumers, brands can't help but integrate social media marketing into their overall marketing strategy.
The biggest benefit of social media is its ability to establish two-way communication between consumers and brands. Consumers can put their queries forward and brands can respond to them, all in real-time. In addition, it provides useful insights through various monitoring mechanisms. As such, it won't be wrong to say that social media has completely transformed the marketing game for brands today.
Making Social Media A Part Of The Marketing Strategy
The truth is social media channels are cluttered and noisy. As such, it's important that brands offer content that serves a purpose. Here are a few ways you can use social media for your brand's promotion in the best possible way:
Choose The Right Channels
Just because you have an online business you have to use all the social media channels present today. You should choose channels that align with your brand's positioning and target audience. For example, if you are a B2B company serving corporations, LinkedIn would be a more suitable platform than Snapchat or Instagram for that matter. The choice of channels is, thus, the most important factor to consider while integrating social media into your overall marketing strategy.
Create An Effective Landing Page
The ultimate goal of all online businesses is to convert users into actual customers. But this is only possible when their website is well-designed and high-performing. You have to pay special attention to your landing page because this is where you want your audience to actually be. If you have targeted well and shared valuable content, visitors won't mind sharing their email address and subscribing to your content.
Target Ads Specifically
This can be a tricky thing to do. You have to know your audience properly in order to target them with valuable ads. Facebook's local ad targeting proves useful in reaching out to the local audience. It also allows marketers to target by demographics, age, and precise location. Therefore, it's recommended that brands develop a clear understanding of their target audience and show them ads that are suitable for them.
Bring In Your Email Marketing
If you are doing the right thing on social media, it's possible for you to get readers to sign up for your email list. This will let you send them targeted emails and provide valuable content. Besides, your marketing emails should have the link back to your social media profile in order to establish cross-platform communication channels.
Maintain Consistency
Last but certainly not the least, you need to be consistent enough with your social media posts if you want to maintain an active presence. You have to create proper schedules for your content so that it reaches the target audience. Brands should consistent post relevant and valuable content so that consumers continue to engage with them.
Do you have a social media strategy in place? Too overwhelmed with other business items to do it yourself? Let us help you!
Contact Us
We want to hear from you, so what are you waiting for? Contact us today.
Get In Touch
Share this post
Comments