5 YouTube Tools for Boosting Your Content
5 YouTube Tools for Boosting Your Content
/images/uploads/blog/BOOST_YOUR_YOUTUBE_CONTENT.png
Omaha Media Group
https://www.omahamediagroup.com/images/uploads/monster_gallery/Omaha-Media-Group-Black.jpg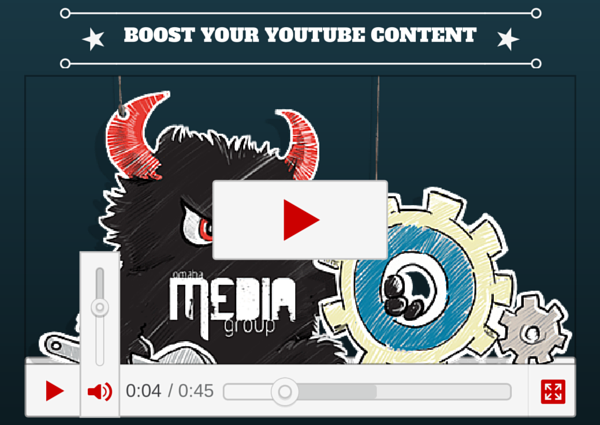 YouTube is an incredible, yet very in-depth, platform to build a following as a part of your marketing strategy. The latest Google update is paying extra attention to video content, so we encourage this media to be explored and considered for your marketing strategy.
1. Optimize your videos
Strategizing your keywords for YouTube is about brainstorming and finding alternate ways to describe your videos. Keywords shouldn't exactly guide in your creativity, but they should heighten it.
There are several free development tools to perform keyword research for your video content. Tools like Google Suggest and other WordPress plugins generate keywords compared with Google search terms.
2. Study your competitors' channel
Analyzing your competition is imperative to your marketing campaigns. Getting an educated analysis can help you decipher what content works best for your audience and what keeps your viewers effectively engaged.
An easy, effective, and pay as you go tool is the BirdSong Analytics' YouTube Analysis feature. Gather useful stats, such as your competitors' best time for uploads, likes, and comments through filters and conditional formatting.
3. Eye-Catching design
YouTube marketing isn't all about the content. Getting people to click on your links and engage for earning engagement is a huge part of it. Therefore, creating inviting graphic design components is essential.
Creating captivating thumbnails in free programs like Canva is an easy way to create thumbnails for your videos and upkeep a consistent look for your channel. Thumbnails should be as large as possible beings that it will be the preview image in your embedded player. As a guideline, your resolution should be set as 1280x720; in a standard JPG or PNG format; and under 2MB.
Update 9/28/2020: Canva reached out to us in regard to this very article to share their special YouTube page which outlines best practices when using Canva for YouTube. Thanks, Canva!
4. Get your YouTube videos shared
Once you've uploaded a video to YouTube, it's essential that you promote your video on other social media platforms. Using your channels RSS feed makes this easy to accomplish. A general rule of thumb when posting to YouTube videos to social media, especially Facebook, is to keep them at or around one minute to a minute and a half. This will ensure that your video not only gets watched in entirety but also engaged with; liked, shared, and commented on which in turn, expands its reach.
5. Track your stats
Monitoring your channel and video progress can be done through tools such as Cyfe. You'll create a dashboard that auto-updates in real-time. There are also built-in YouTube tools that are fantastic ways to start out with your new channel strategies.
Need YouTube Help? Contact Us!
Is your business on YouTube? Are you looking for a new way of broadcasting your brand? If you're in need of creating a presence on YouTube and don't know where to start, contact us today to chat with our Social Media team!
Contact Us
We want to hear from you, so what are you waiting for? Contact us today.
Get In Touch
Share this post
Comments