6 Ways Social Media Helps Small Businesses To Grow
6 Ways Social Media Helps Small Businesses To Grow
/images/uploads/blog/SOCIAL_MEDIA_FOR_SMALL_BUSINESSES.png
Omaha Media Group
https://www.omahamediagroup.com/images/uploads/monster_gallery/Omaha-Media-Group-Black.jpg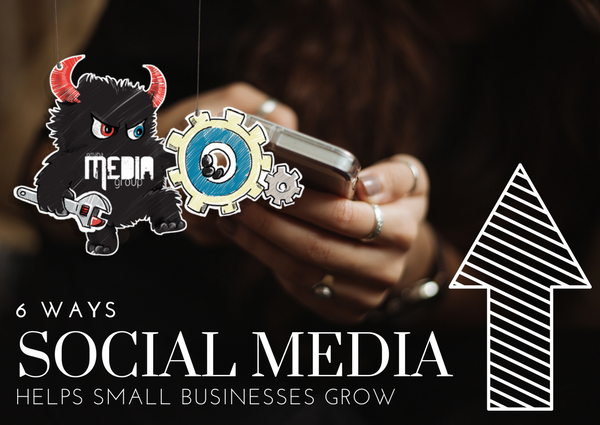 Social media has an essential role in helping small businesses and start-ups climb up the corporate ladder. Customers get the first glimpse of your business on social media. Platforms such as Facebook, Twitter, LinkedIn, and so many others have taken the internet by storm and are crucial to the social lives of so many people. It is precisely for this very reason that you should pay attention to social media marketing, especially if you are a growing company. It is a great way to promote your business. Take a look at how social media affects your business
People Start To Recognize Your Brand
When you start posting content relevant to your business on social media, it boosts your social media presence. Your business starts gaining visibility as your posts start getting shared. Slowly you gain some level of credibility. It is a fact that users prefer businesses that are recognized online. They expect to find your business when they enter in search queries related to your company.
Social Media Drives Traffic To Your Website
Social media is a hub of activity. Various forms of content such as infographics, articles, videos, podcasts and so much more are constantly updated and shared on different social media platforms. You can use this factor to your advantage. You can post URL links that direct people to your website. Posting promotional content about freebies and coupons are also a great way to grab attention.
Creating A Community
Once you develop some followers, you can slowly start building a social media community. You can ask followers to fill out surveys, take part in online games, and consult your followers on their opinions about your products. Not only will this help you to tailor your products and services to meet customer demands but will also help you to interact with your customers.
Customer Service
These days when most transactions are done online, it is only natural that feedback is also given online. Social media is where people go to seek guidance, give reviews and receive a general feedback. Make sure that your customer service closely follows any conversations that surround your business on social media. This way you can understand your existing customers and their requirements better and use this understanding to bring in new customers.
Marketing Costs Are Lower
Your traditional marketing methods such as banners, television advertisements, and newspaper advertisements cost quite a lot of money without giving you the guarantee of whether they will reach the right audience. With social media marketing, it is possible to find groups and individuals who have more chances of being interested in your business and it is quite economical. Great reviews play a role in promoting the reputation of your business. News spreads quickly on social media and you should know how to take advantage of it.
Search Engine Rankings
Your social media presence is very important in determining your rankings on search engines. A good social media presence directly translates to higher rankings on search engines. When posting on social media. Use search terms and keywords that are related to your product and will drive traffic to your website when posting content on social media.
Did you know we can take Social Media Marketing off of your plate? Let us do it for you!
Contact Us
We want to hear from you, so what are you waiting for? Contact us today.
Get In Touch
Share this post
Comments