9 Tips to Make the Most of Visual Hierarchy
9 Tips to Make the Most of Visual Hierarchy
/images/uploads/blog/visual-hierarchy-omaha-media-group.png
Omaha Media Group
https://www.omahamediagroup.com/images/uploads/monster_gallery/Omaha-Media-Group-Black.jpg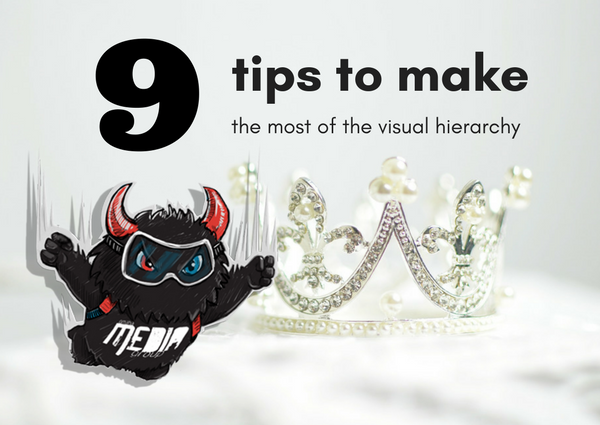 Visual hierarchy is the arrangement that gives out a clear impression on what is important and how much. It is an extremely clever concept in design.
The relative importance that you assign to each design components needs to be extremely well planned backed by all your priorities.
The best practice in visual hierarchy that you must embrace include:
Clarity – You should very clearly know what you want to promote. The content or your intention for reach and effect of content should be clear to you. Only then you can go ahead and design accordingly.
Use of scanning patterns – As a user, even you must have had scanned a page at a glance to decide if it appeals to your senses or not. As a designer, this is the kind of knowledge you should exploit to get maximum visibility on a page for your content.
Research has shown that there are two patterns- F and Z, which are of the most significance.
F- pattern –

A left aligned, text-heavy design.

Z -pattern –

Human mind processes images faster. Putting designs in a diagonal pattern starting from left to right then to left and right, typically forms z. This design strategy is time-tested and a favorite among many designers.
Use negative space – Negative space, also known as white space, stands for emphasis on a particular visual content that you want to highlight. It is advisable to not over-utilize white space too much as then the design may lose its appeal.
To the left – Our eyes are used to reading from left to right more than the other way around. So, it is obvious that you should arrange your content keywords to the right so that they are easily located.
For images, try the odd one out routine. Odd pairings get more attention.
Give a structure – Unstructured visual content can never be appealing. Using the grid, horizontal, and vertical give you more idea to optimize space. Also, take into consideration the proportions of the elements in your composition.
Contrast – It is common sense that color is the most appealing part of any composition. Work with the contrasting effects of color, use it to emphasize elements that you want to have the most attention.
It is not advisable to be too bold with the entire design as it will lead to losing focus. Use colors effectively in proportions and in an affirmative way.
Does size matter – Yup it does! At least in visual design. Fonts not only make it noticeable, it carries out an underlying message of the importance of the matter.
In a small font text, if you see a word in bold or in italics, you immediately know it is of some importance.
Maintain an order – Most of the times, good designers use three types of typeface to convey in designs based on their priority for the whole design.
Primary –

the biggest ones

Secondary –

smaller in comparison to the primary ones

Tertiary –

generally the body text or used for additional data
Aesthetic yet functional – That should be your goal for creating the best design. Arrange options like register now, cart, and the likes appropriately without compromising on the overall visuals.
Do you have questions about visual hierarchy? We'd love to answer them for you! Send us a message!
Contact Us
We want to hear from you, so what are you waiting for? Contact us today.
Get In Touch
Share this post
Comments