A comprehensive guide to local SEO in 2021
A comprehensive guide to local SEO in 2021
/images/uploads/blog/Omaha-Media-Group-06.02-Blog_.jpg
Omaha Media Group
https://www.omahamediagroup.com/images/uploads/monster_gallery/Omaha-Media-Group-Black.jpg
Let's say you run a local business in your city- whether it be a shoe shop, pool store, agency, or any other business in the area- the largest portion of your sales will most likely come from the locals in the area.
What happens when you search for "bike shop in X"? If your shop is not there, who else is populating? The competitors? National companies? This is because when it comes to local SEO and the local algorithm in Google, the geographical location of said searcher matters just as much as the local SEO strategy behind the scenes.
Below, our experts provide a comprehensive guide to local SEO strategies and how to start ranking on local SERP in the near future.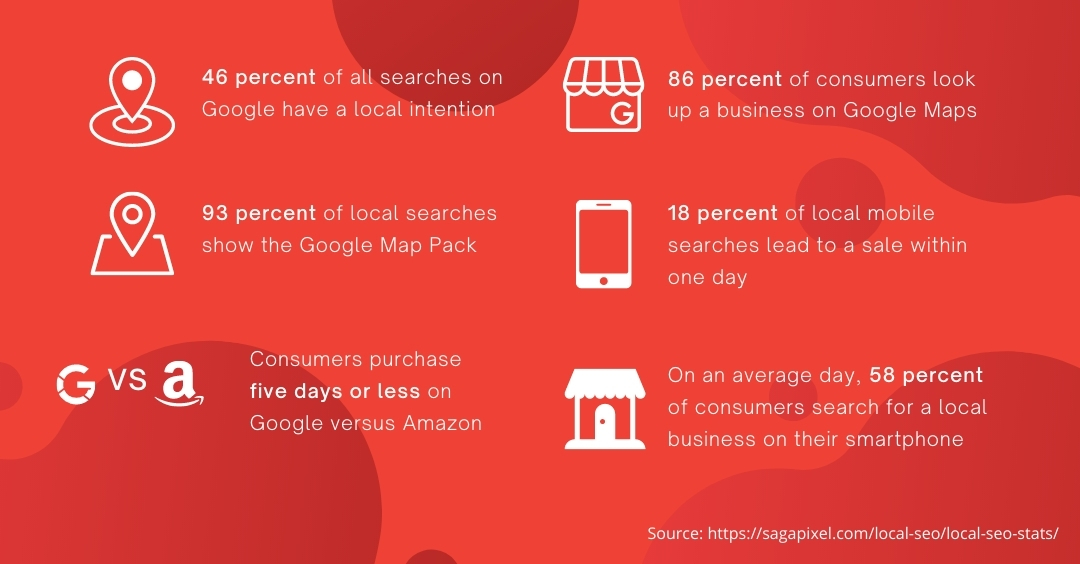 How is your website?
Did you know that 36 percent of your small business counterparts still don't have a website. For those small business owners, directors, executives and management teams who are part of the 36 percent, there is a solution for this.
It has been estimated that websites only last for about three years in the current digital realm, and because of this, all local businesses need to get their digital presence started or update their digital presence.
Start with Google My Business
To gather information for local search, Google relies on signals such as local content, links,, and other contributing factors that help to signify to local prospects that your business is in close proximity!
When it comes to local SEO and the local algorithm, Google My Business has proven itself to be a critical factor in the success of local SEO. This is because it provides the visibility that local businesses are searching for when it comes to SEO.
Local SEO and the local algorithm use three separate factors when ranking a local business- relevance, distance, and prominence. With a Google My Business account that is accurate and provides the right information regarding the three criteria above, you can increase local foot traffic over time.
The other benefit of Google My Business is that a small business can conduct its business through the listing.
Local justification is known as the extra small snippet underneath a Google My Business that displays more information based on that search query. This provides a small excerpt of what the company offers, in-stock products, menu reviews, top recommendations, and other useful information.
The best part about local justification is that it can be modified by a local business optimizing their Google My Business listing. There is that Google My Business factor for local SEO again.
Create accurate, local citations
Local citations are where your business name, address, and phone number are correctly displayed. No matter where the local citations are added on the website, make sure that they are constantly updated and consistent in all your information across the Internet.
List your business on local directories
The biggest thing about your local business being on directories is that the information above needs to be completed. Verify that your citations are consistent and completed across the board with FourSquare, Yelp, Neustar Localeze, Chamber of Commerce, and Local.com.
Perform a local SEO audit
Who is the biggest competition out there? Is it the brand new company you have never heard of that is hitting SEO hard?
A local SEO audit can help your business understand the gaps that you are missing in the local SEO space and understand who your competitors really are.
These are some of the ways to conduct a local SEO audit.
Google My Business Audit

Google Search Console Audit

On-page audit

Competitor analysis

Website audit
Schema markup
Semrush states, "Schema markup is a structured data vocabulary that search engines better understand the info on your website in order to serve rich results. These markups allow search engines to see the meaning behind the entities mentioned on the site."
This tells Google how the page should be classified and the type of page it is. Is this a blog about SEO or a recipe? While Google is intelligent and would be able to guess what this blog is, that is the general consensus of what Schema markup is.
Backlinks
Backlinks, also known as link building, is the process of improving a website's rank in search engines based on building quality and high authority links back to a website.
Here is a great example of backlinks from Backlinko.
Backlinking is one of the most common SEO strategies used out there, and for local SEO, it is just as important as national SEO. When it comes to local SEO specifically, this is called local link building.
Backlinks can come from so many sources, but local backlinks are specifically looking for local, relevant, and referral traffic that is coming from other high-quality local backlinks.
To get into the strategy from beginning to end, without having to write a whole new blog, Blue Frog provides the entire strategy.
While these are not all of the local SEO strategies that can be implemented to help with the local algorithm, it is important to get the process started. It takes time, dedication, and energy to get the attention of Google.
Contact us
At Omaha Media Group, we are the local SEO experts! We have been providing local businesses with digital strategies for over 10 years. We know what we are doing and what it takes, for more information, contact us today.
Contact Us
We want to hear from you, so what are you waiting for? Contact us today.
Get In Touch
Share this post
Comments