August SEO Notes: The latest in the industry
August SEO Notes: The latest in the industry
/images/uploads/blog/Omaha-Media-Group-August-Blog.jpg
Omaha Media Group
https://www.omahamediagroup.com/images/uploads/monster_gallery/Omaha-Media-Group-Black.jpg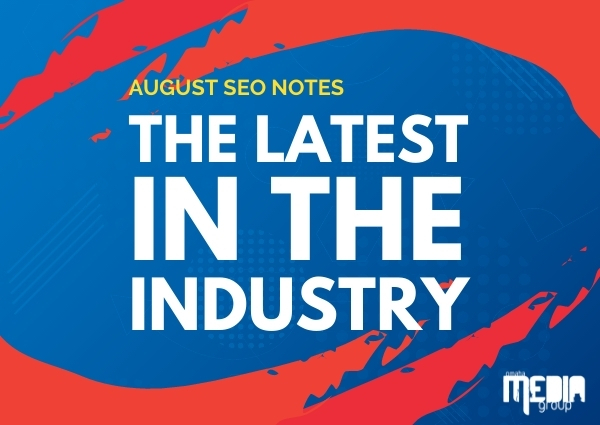 Our Omaha SEO professionals are ecstatic that this month did not include four major Google updates! As the Google Page Experience updates finishes and SERP begins to calm back down, here is what our experts noticed for this month.
Google Page Experience Update changes
As the Google Page Experience Update roll-out has ended, it is important to understand what elements have been switched during this two-month time frame. The first switch that has been changed is due to safe browsing.
One of the biggest components of the update is the movement of safe browsing in the hierarchy of this update. The safe browsing experience is to ensure that searchers' information is safe while entering and leaving that website, but as Google stated, sometimes the site not being secure is out of the owner's hands.
Here is an image from Google on the new rankings in this hierarchy!
There has been some confusion between the SEOs, Liaisons, and others at Google regarding if this update is as massive and changing rankings as stated before. The final consensus is that if you noticed a change in ranking during June and July, more than likely, that was due to the Core Updates, not necessarily the Page Experience Update.
While all of this has been going on, another update has been going on behind the scenes that have gotten less attention than others in recent weeks.
On July 26th, 2021, Google released the Link Spam update, which was only supposed to last a maximum of two weeks, but here are our Omaha SEO professionals writing about the update at the end of August. One of the top three ways to rank with Google SEO is with backlinking strategies.
This strategy uses a link referring back to your website, and the more links a company has, the better their site can rank in Google. However, in an attempt to get ranking faster, companies will have spammy links implemented.
Like with all things, Google eventually catches on, and this is where the Link Spam Update originated from.
Title tags
Recently, a number of SEOs in the industry have noticed a change in title tags. A title tag is known as an HTML code that gives your website page a title or name. This tag is one of the biggest hot spots for SEO, and with Google changing title tags for a featured time-frame, it is pulling different content within the articles and using those as the title tags.
While Google is known to rewrite other aspects of optimized websites, it does make any SEO expert working on Google SEO eye's twitching a bit!
As always, SEO is constantly changing, and it is a never-ending fluctuation. For those who have any questions, contact us today!
Share this post
Comments