Current Opening: Digital Marketing & SEO Intern
Current Opening: Digital Marketing & SEO Intern
/images/uploads/blog/CURRENT_OMAHA_INTERNSHIP_OPENING_AT_OMG.png
Omaha Media Group
https://www.omahamediagroup.com/images/uploads/monster_gallery/Omaha-Media-Group-Black.jpg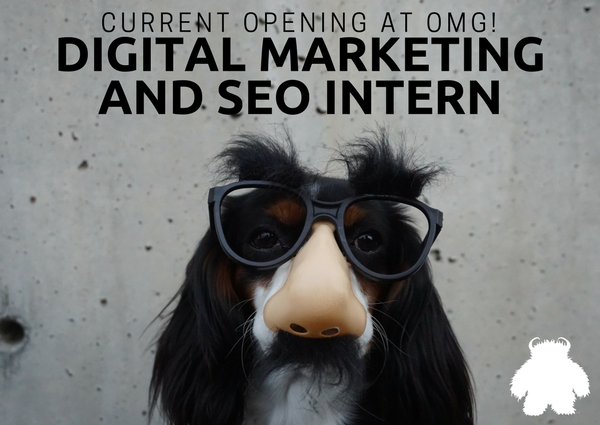 Are you a college student or recent graduate in the Omaha, Nebraska area? We're looking for a Digital Marketing and SEO Intern! If you have interest in SEO and PPC strategy, this position is for you! If you've got buzz for account management, enjoy collaborating with a team to grow a successful program, and can communicate with ease via animated gifs and memes…you should apply.
Interns hired for this position will excel with critical thinking skills to integrate into this already vibrant, passionate, and borderline-crazy team. This internship is a great fit for college students or recent graduates that are looking to gain a wealth of knowledge in the online and digital/social marketing industry. Ideal candidates will take interest in learning about SEO, PPC strategy and execution, and account management.
The most important thing we look for in our team is a cultural fit.
We can teach the software, SEO, and skills…but here's what we really need to know:
Do you like to have fun? Do you have a sense of humor?
Are you willing to switch gears frequently?
Are you a dedicated worker?
Do you love working with different clients from a wide array of markets?
Are you an eager worker?
Can you play nice with other humans and machines? (Let's say, for example, the Keurig coffee machine needs to be reset after a power surge. Are you going to melt down in tears when you can't make yourself a cup of coffee? Or are you going to try and solve the problem by either resetting the coffee machine or going across the street to Scooters?)
Are you comfortable both giving and receiving constructive feedback?
Are you available to work 20-40 hours a week in our Omaha, Nebraska office?
What would your responsibilities be, you ask?
Optimizing content and landing pages for search engine optimization and digital marketing.
Performing ongoing keyword research and keyword opportunities.
Researching and implementing content recommendations for the benefit of SEO in mind.
Execute tests, collect and analyze data and results, identify trends and insights in order to achieve maximum ROI in paid search campaigns.
Track, report, and analyze website analytics and PPC initiatives.
Manage campaign expenses, staying on budget, estimating monthly costs and reconciling discrepancies.
Develop and implement link-building strategy.
Work with our development team to ensure best SEO best practices are being implemented in newly developed code.
Work with our content team to drive SEO in content.
And so much more…
How do we measure success?
Swiftness, agility, accuracy, clarity, and the number of happy exclamation points and emoticons we receive in our client emails. If our clients are happy, everybody is happy.
You should apply if:
You are a problem-solver. (Please refer back to our Keurig coffee example above.)
You are fluent in written and spoken English.
In love with learning new things. Software, processes, and the like.
Un-flusterable. You read that right. We made that up, but if you're a good fit, you can understand it.
Willing to dig for answers when you don't know them.
Detail-oriented, but not a perfectionist. We LOVE "great," and understand that trying for perfection can be maddening.
Ability to think on your feet.
Motivated, driven, and assertive.
Open-minded with it comes to new ideas and methods.
Open-mouthed and able to teach if you know a better way for us to be doing something different.
Want your application to get a gold star?
You're so organized you nearly label your pets with a label maker.
You're well read and versed in the best parts of 80s, 90s, and 00s culture. If you can have an intelligent conversation going from Arrested Development to Friends to Stranger Things to Archer to Rogue One and true crime…you're set.
You know how to work a Nest thermostat…and the restraint to also not touch it. (Thermostat scene from Daddy's Home 2 anyone?)
You can complete a full thought with call-to-action in 140 characters or less.
You like food.
You are comfortable with the fact that any and all of this may change on a daily basis…with no notice…often.
With this internship, you'll be doing a little bit of everything in collaboration with our awesome team. You'll work hand-in-hand with our content writes, graphic designers, programmers, and head of staff. If you're easily adaptable to a bustling and creative environment, you could be a great member of our team!
Don't be a procrastinator! Apply today!
Contact Us
We want to hear from you, so what are you waiting for? Contact us today.
Get In Touch
Share this post
Comments