December SEO Notes - The latest in the industy
December SEO Notes - The latest in the industy
/images/uploads/blog/Omaha-Media-Group-12.25-Blog_%281%29_.jpg
Omaha Media Group
https://www.omahamediagroup.com/images/uploads/monster_gallery/Omaha-Media-Group-Black.jpg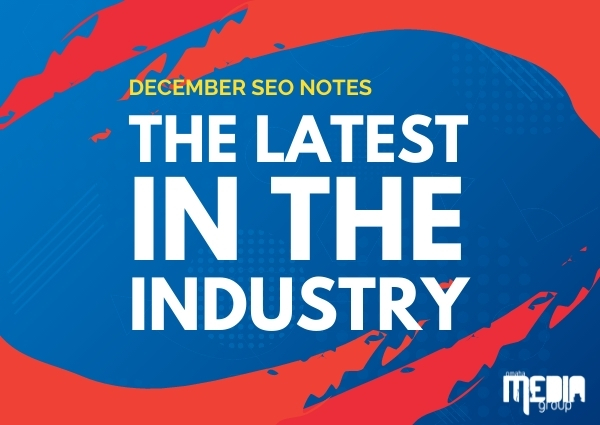 These are some of the biggest updates that our team has noticed going into the new year.
Log4J & CVE-2021-4428 security
Research and reports are showing that a new open source is prompting researchers and companies to update their systems, and in an effort to do so, there have been reports of hacking and malware attacks.
John Mueller, Google's Search Liaison, on Twitter provides a deeper insight into this problem and possible solutions to fix this from Google themselves.
Please read our blog from our developers to learn more about this! Our team continues to monitor this.
This is why it is so important to find an expert SEO company that can monitor websites and hosting to ensure that all websites maintain their integrity.
The Core Web Vitals update is a strong Google Core Update that has put its top Core Updates over the past several years into requirements versus suggestions.
Google is constantly updating its SERP to ensure that it provides the best user experience. In 2021, one of its biggest updates involved seven different ranking factors, but three are the most important.
Google is constantly working on improving its user experience for its searchers, and this means that websites also need to improve their user experience as well.
Our expert SEO company can review the current performance of each different website with our SEO tool. It provides a percentage of how the website is performing with this update.
Beginning on November 30, 2021, Google released an official statement regarding the November 2021 Local Search Update which finished on December 8. It is suspected that this update continues to evolve and make changes in its SERP.
This local search update has been targeted towards showing Google Business Profiles in the Local Map Pack when someone types in local search queries.
Google provides a list of the necessary information that should be added to all Google Business Profiles here.
Google Business Profiles? Yes, Google has started the transition from Google My Business to Google Business Profiles. It is one of the latest changes.
For more information regarding any of these updates of previous Google algorithms, Core Updates, or more knowledge, check out the December 2021 Google Webmaster Report from Barry Schwartz, CEO of RustyBrick.
Our expert SEO company is constantly updating and monitoring changes each month based on current findings in the industry and reporting from our SEO clients. For more information regarding SEO strategies, digital marketing, or a consultation, please contact us today!
Let's make sure your site is secure and ready for SEO!
Let's chat.
Share this post
Comments