Decoding The Online Shopping Surge
Decoding The Online Shopping Surge
/images/uploads/blog/DECODING_THE_ONLINE_SHOPPING_SURGE.png
Omaha Media Group
https://www.omahamediagroup.com/images/uploads/monster_gallery/Omaha-Media-Group-Black.jpg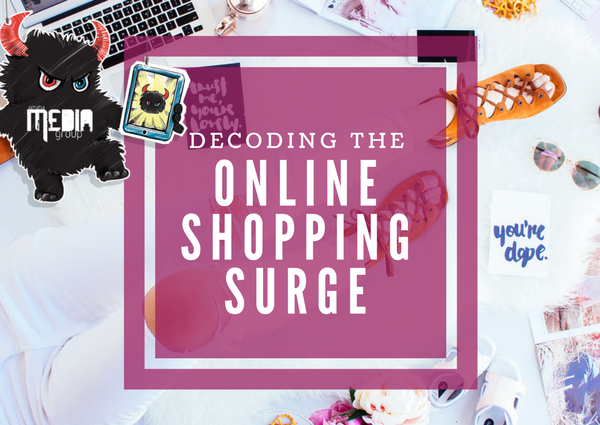 Whether owing to our frantic schedules or the sheer convenience of shopping at one click – the reasons could vary, but the numbers vouch for the massively growing trend of online shopping. It's not so difficult to comprehend once you look around to find everything under the sun going digital, with shopping being no exception to the rule. When we book our movie tickets online, order food online and even pay online, it only makes sense to wake up to the online shopping trend.
Here's a low-down of the digital shopping drift over a period of recent few years.
Electronic Market Rules Online Shopping Space
Statistics unanimously point towards electronic gadgets – primarily mobile phones – dominating the online shopping domain. Right from tablets and phones to home kitchen appliances – the electronics mark their territory when it comes to shopping through these portals. A recent survey revealed that not only mobile phones make for 65% of the online shopping market, but it also comes to light that mobile phones are the most preferred device for online shopping – with as many as 76% of the people using their phones to shop. The data says quite something about the trend, isn't it?
Online Shopping Has Overcome The Initial Phase Of Customer Reluctance
Online shopping and consumer's reluctance used to go hand-in-hand during the initial phase of online shopping. However, with the younger age group bringing about a lot of digital changes in various arenas, shopping has not remained untouched by it. And so, the average consumer is no longer wary of picking something he hasn't physically seen or touched before, even if it means make a full payment in advance!
The stats say that the most of online shoppers are aged anywhere between 18 and 40, which is essentially the working population of any economy. And they are the ones who are really capable of completely transforming the market with their response, as they did. The primary reasons for the shift could be many. During the peak season, it's frustrating for them to wade through long billing lines whereas easy online payment procedure makes things simpler for them. Similarly, if you're pressed for time and are too busy to visit multiple stores to compare the prices for the same thing, it's much easier to do that online.
However, there's a long way to go before shopping portals completely replace retail stores. The latter will always have an appeal to the masses for multiple reasons. For instance, online delivery makes you wait for at least 3-4 days, which you might not always have to spare. But there's no denying that the portals have a growing customer base in today's times.
Have you made your products available to sell online? Let us help!
Contact Us
We want to hear from you, so what are you waiting for? Contact us today.
Get In Touch
Share this post
Comments