Digital Marketing Misconceptions Pt. 1
Digital Marketing Misconceptions Pt. 1
/images/uploads/blog/COMMON-MISCONCEPTIONS-OF-DIGITAL-MARKETING-OMAHA-MEDIA-GROUP-BLOG-PT1_%281%29.png
Omaha Media Group
https://www.omahamediagroup.com/images/uploads/monster_gallery/Omaha-Media-Group-Black.jpg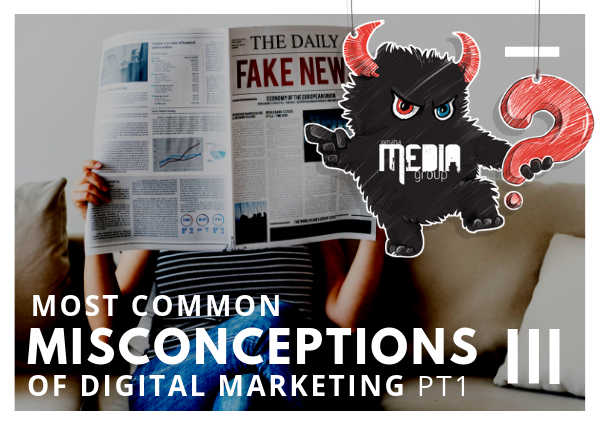 As a digital marketing agency in Omaha, we work hard to fight the misconceptions of the field we work in!
Digital marketing, in Layman's Terms, markets products and services on the internet, mobile devices and other digital mediums. In short, if you've got a business, a team like ours will put it out into the internet universe.
Now, it's important to not get digital marketing confused with advertising! These are two very different concepts!
Digital marketing is the design, creation and research that goes into placing a product or service in front of a target audience online. Digital marketing maintains the tone and personality of your brand.
Advertising is the literal process of getting the word out about your product or service for sales. Online, advertising comes as pop-up messages, push notifications or in-app promotions.
Confused?
Digital marketing creates a community. Advertising tells your community what to buy.
Common misconceptions about digital marketing?
Digital marketing is an instant business band-aid.
Every now and then businesses assume if their business is struggling, digital marketing will solve all their problems immediately. Truth be told, we'd love to solve all your problems with our digital marketing magic, but it's not an instant cure-all.
Digital marketing takes time. It can take 6-7 different interactions before a person remembers who your brand is. In time, your digital marketing strategy can build a community that offers up useful information, reputation building and customer service. Anything promised overnight is bologna!
Set it and forget it.
A few weeks ago we talked the "if you build it, they will come" strategy. Digital marketing takes ongoing work and attention.
Remember, digital marketing is more than a random social media post or blog entry. Sitting and waiting for something to go viral is not a realistic method. Moreover, it won't bring you much success. Digital marketing requires an evolving strategy, testing and research.
Digital marketing is FREE! Or it should be, anyways...
Why would anyone invest in digital marketing when social media is free? Great question!
Organic reach on social platforms, in particular, Facebook, has drastically declined in the past few years. First and foremost, Facebook has made efforts redirecting it back to its original purpose: to be social with friends and family.
Because of this, social algorithms have changed to favor content from family and friends as opposed to businesses. Frustrating for a business? Absolutely! Can we blame them? No.
When you step back and observe the situation, it's safe to say users scroll with the intent of seeing what our friends and family post. We don't intentionally seek out business ads.
Gaining organic reach and growth is a challenge, now requiring a budget towards "boosted" posts. In other words, you need to pay to play.
The good news? Digital marketing is less expensive than traditional marketing AND can generate three times the leads!
Outsourcing your digital marketing provides expertise for the fraction of the cost of traditional marketing. Through extensive research in your business and dedicated time, a strategy built for you can prove to be a great move for you!
On Wednesday, we'll go over four of the most popular misconceptions of digital marketing. Stay tuned!
Share this post
Comments