Do I need a Google My Business account?
Do I need a Google My Business account?
/images/uploads/blog/Omaha-Media-Group-02.22-Blog_.jpg
Omaha Media Group
https://www.omahamediagroup.com/images/uploads/monster_gallery/Omaha-Media-Group-Black.jpg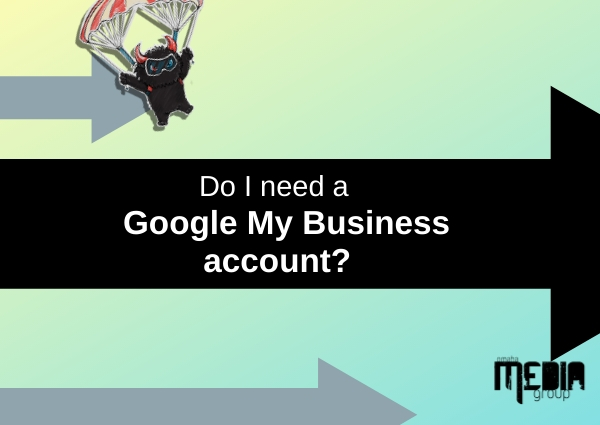 Google My Business (GMB) is one of the best tools for local SEO out there! SEO is time consuming, competitive and hard long-term strategy for any company out there. But, one of the free tools that can help this local ranking is a Google My Business account.
A Google My Business account is an easy way for consumers to find a company when they are searching on Google. This free and easy tool can help any company from Mom and Pop shops to Fortune 500 companies.
A company can manage their location on Google Maps, their knowledge graph, post updates and read online reviews. Why would any company want to create and manage a GMB profile?
One word: SEO.
Local SEO
In 2014, Google released their first local SEO update called Pigeon. Pigeon gave local companies a boost in their local SERPs. This helps to increase local searches and relevant and close companies coming up with search phrases. 88 percent of consumers trust online reviews and 86 percent look up the location of a company on Google Maps!
Narrow this down and 18 percent of location-based mobile searches result within a sale in 24 hours! Local SEO is becoming increasingly important in the SEO world because it helps answer those search queries.
No one wants to type into Google "home renovation in omaha" and the search results pull up a number of companies and General Contractors who are located in Fremont or Nebraska City! It is kind of a waste of a searcher's time.
There are three notions that are considered when it comes to local SEO:
Relevance: Google seeks to recognize that the company is relevant to the search query.

Proximity: Ever been in a meeting or next to a find and different search results show? This is based on proximity. Two different laptops will show different results based on the location.

Prominence: Is your company reliable? Does Google see you as credible? Reviews are important and so isn't how Google views your company.
How does all of this relate to a GMB account? What would show up in the local MapPack or on the right hand side of a search query? If you guessed a GMB account, you are correct. A GMB account is one of the most important notions when it comes to local SEO and having that business listing optimized is critical!
Optimizing a

Google My Business profile
Complete all the information Google asks for
To understand your company or business better, Google will ask you a variety of questions to better understand your Google My Business profile. It is important to fill out all of the questions that Google asks and make sure all of it is relevant. This listing is data that will make it easier for a consumer to find you. If you don't fill it out yourself, GMB allows customers to fill it out for you. Better you handle it than an angry customer.
"Why would Google allow that?" It is all about optimizing and understanding the content.
All someone has to do is click that "suggest an edit" button and completely change everything! Also, make sure to double-check that Google isn't asking for new information. Even if the profile was completely filled out, if Google is asking for new data, this is the perfect time for someone to change it. There are "Google Updates" you will see when logging into the dashboard.
While it might seem like the silliest part of the entire Google My Business account and profile, it is an important part. Photos help your listing to stand out and give potential customers a glimpse inside and outside of the company. It can show off products and/or services while giving a 360 tour of your company!
Remember, stay local!
Even if the company is a franchise, use a local number on the Google My Business profile. Nobody, and we mean nobody, wants to call corporate for a local phone number. Keep it local. It is all about local SEO and the MapPack, so make sure that a consumer can find the local number. A corporate website is fine.
GMB posts
Google My Business allows for post updates kind of like social media platforms. It is important to use an image, even emojis and keywords. This is all in an effort to grab a searcher's attention and rank in local SEO!
When it comes to emojis, some searchers use them as keyword phrases. An example would be "best 🍣 in Omaha." A Google My Business profile can add this into their post or keywords to make sure their sushi or Japanese restaurant ranks first.
Reviews!
A company with tons of reviews could outrank another one who has virtually none. This is because consumers trust other's opinions more and Google finds that it makes your company more credible. How do you get consumers to leave reviews? Simply ask! Don't be pushy, but offer an incentive! Recently, our team sent out an email campaign. This campaign gave current DM clients $50.00 to leave a review on Facebook, Google My Business profile, Clutch or UpCity! Who doesn't want $50.00 to leave a simple review?!
A website that is optimized for both search engines and customers is critical, but so isn't a Google My Business account that shows in local SEO results as well! For help with SEO or creating a GMB account, give us a call today!
Contact Us
We want to hear from you, so what are you waiting for? Contact us today.
Get In Touch
Share this post
Comments