Giving Tuesday
Giving Tuesday
/images/uploads/blog/Omaha-Media-Group-11.29-Blog_.jpg
Omaha Media Group
https://www.omahamediagroup.com/images/uploads/monster_gallery/Omaha-Media-Group-Black.jpg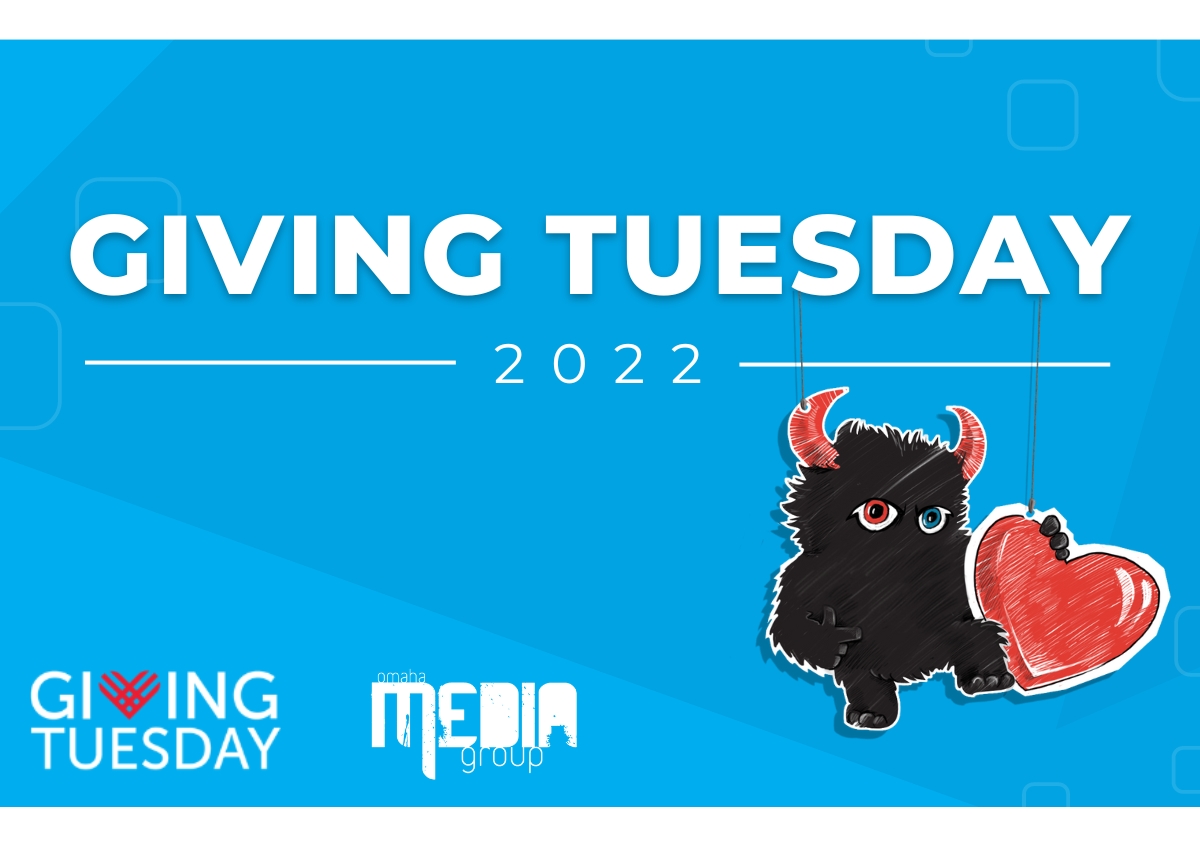 November is jam-packed with a lot of holidays like Black Friday, Small Business Saturday and Cyber Monday. One important holiday that should not be forgotten is Giving Tuesday for nonprofits, businesses and individuals. Giving Tuesday is a global initiative that encourages people and organizations to donate their time and money to charities.
It takes place every year on the Tuesday following Thanksgiving. This holiday started in 2012 as an idea that would encourage people to do good after a season of spending. Over the years, it has become an independent nonprofit and a global movement that inspires people to give, come together and promote generosity.
In the spirit of giving back, our team wants to share some ways you and your business can give back this Giving Tuesday and spotlight some cool charities we support all year round.
How you and your business can participate in Giving Tuesday
Giving Tuesday is a great way to support your community as an individual and business. If you are looking for some ways to give back this Giving Tuesday, check out this graphic and share it with a friend or family member.
Our involvement in generosity
At Omaha Media Group, we're a faith-based creative management firm. Our mission is to always leave the community in a better state than we entered. Here are some of the many nonprofits and charities that we support all year round. Learn about their mission and the different ways you can give back.
Chive Charities
#KeepCalmAndChiveOn with Chive Charities based in Austin, Texas. Chive Charities' motto is "making the world 10 percent happier" by impacting the lives of families and those serving all across the nation. Each month, the members of Chive Charities listen to the stories of Veterans, first responders and families with rare medical diseases to understand their needs to continue to live a happier and better future. The impact this nonprofit organization makes on a national scale is undeniable, and it is, in fact, making the world 10 percent happier. Check out how you can donate to support their mission here.
Monstrous Gear
Look cool while also supporting nonprofit organizations with Monstrous Gear. It is owned and operated by Monster Creative in Omaha, Neb. Its mission is to create and promote positivity and generosity through giving to others. Monstrous Gear has a wide range of gear, from hoodies to shirts. All proceeds are donated to nonprofit organizations like Chive Charities, Madonna Rehabilitation and others across the nation. Buy your Monstrous Gear here.
Service Dogs Inc
Service Dogs is a nonprofit to build better lives for Texans. They help people to overcome challenges through partnerships with customer-trained Assistance Dogs provided free of charge. They serve veterans and other adults residing in Texas, specifically those who are deaf or hard of hearing, individuals with mobility challenges, victims of trauma and first responders with mental health struggles. You can help their mission by volunteering your time or making a donation.
DREAM
DREAM is an Omaha nonprofit located in Omaha, Neb., that provides mentoring, sports and after-school programs for at-risk youth in the community. This nonprofit works with local elementary schools in North Omaha to provide a safe place for kids to go once school is over. You can help this nonprofit continue to help over 200 children in Omaha by making a donation or joining the team.
For Elephants
For Elephants is a nonprofit organization located in Omaha, Neb., that conducts elephant research and provides expertise and resources to people that want to do their part in saving the elephants. They provide reproduction and care services to zoos, so each African elephant gets the care they deserve. You can help save the African elephants by buying For Elephants merch or joining their Herd of Heroes donation program.
Madonna Rehabilitation
Madonna Rehabilitation Hospital, with headquarters in Lincoln, Neb., is one of the leading medical and physical rehabilitation hospitals for adults and children around the United States. Their rehabilitation programs are world-class, with expertise, state-of-the-art research and equipment for those who suffered a stroke, spinal cord injury, complex medical issues and a variety of traumatic events or injuries. You can support their mission by making a donation.
Outlook Nebraska
Outlook Nebraska is an Omaha nonprofit that positively impacts the lives of each and every individual in the greater Omaha area who is blind or visually impaired. They provide robust employment opportunities with plenty of room for advancement and success, adaptive technology training, recreational programs to boost confidence, community education and collaborative programs. You can help them continue their mission to improve the lives of those who are blind or visually impaired by making a donation here.
Children at Risk
Children at Risk is a 501(c)(3) nonprofit organization located in Dallas, Texas, that supports Austin, El Paso, Fort Worth and San Antonio counties and children. This nonprofit's mission is to improve the lives of children through education, advocacy, public policies and research to bring light and knowledge to a number of underrepresented communities where children are directly affected.
Rainbow Trail Lutheran Camp
The Rainbow Trail Lutheran is an outreach ministry that provides an extensive summer program each year for children of all ages and teens. This program includes confirmations, retreats, training events and family weekends. You make a donation here.
Diamond of Dreams
Omaha Media Group also supported the Blue Cross & Blue Shield of Kansas City Diamonds of Dreams presented by Blue Cross & Blue Shield of Kansas City is a gala event that features former and former baseball players. It also features an exclusive silent auction. This is a private event with limited sponsorship opportunities available.
To learn more about the nonprofits we support, visit our philanthropy page.
Contact Us
We want to hear from you, so what are you waiting for? Contact us today.
Get In Touch
Share this post
Comments