Gmail's New Promotions Grid
Gmail's New Promotions Grid
/images/uploads/blog/google_promotions_grid.jpg
Omaha Media Group
https://www.omahamediagroup.com/images/uploads/monster_gallery/Omaha-Media-Group-Black.jpg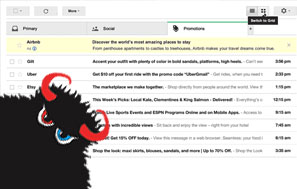 In August of last year Google rolled out Gmail's new tabbed inbox interface. This included the introduction of the new Social, and Promotions tabs. While this first gave some email marketers pause, we can say, almost six months later, that this has not significantly hurt open rates.
The way we look at it, anything that makes managing your inbox simpler is a net win for everyone. Email marketers especially. The Promotions tab means that the people who are interested in receiving your messages will have an easier time doing so, while the spammers will be buried further. It's because of developments like this that Google has been able to start caching images and loading them by default.
Now that people have had some time to get used to Promotions, Google is looking to improve it further in new an exciting ways. Today the company announced a new grid view for promotions.
This new grid view takes advantage of the image heavy nature of email marketing to create beautiful feature tiles for each message. This will make sorting through promotions easier than ever for your contacts, while also giving you a leg up at grabbing their attention beyond just the subject line.
We're excited about this feature and think you should be too. The feature is currently experimental and those who want to try it out need to opt-into it at this point.
As this feature catches on we will look into how we can make optimizing your messages for the Promotions grid as easy as possible to take advantage of it. Though Google has already released some developer documentation so individual coders can get a head start today!
What are your thoughts? Let us know in the comments!
Contact Us
We want to hear from you, so what are you waiting for? Contact us today.
Get In Touch
Share this post
Comments