Google to Penalize Non-Mobile-Friendly Sites
Google to Penalize Non-Mobile-Friendly Sites
/images/uploads/blog/google_mobile_friendly.png
Omaha Media Group
https://www.omahamediagroup.com/images/uploads/monster_gallery/Omaha-Media-Group-Black.jpg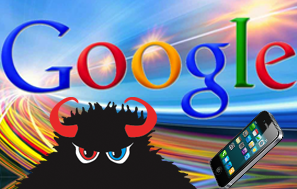 You just spent months getting your website updated for SEO. You optimized in all the right places—title tags, images, header tags, etc. But did you optimize for mobile? If not, guess what? Google is set to dock your site in mobile searches. It's finally happened, mobile has overtaken the desktop browsing. Welcome to the Google Mobile Apocalypse.
What does this mean? It means Google is rolling out new algorithms that change rank for (and that means penalize or downrank) sites that aren't optimized for mobile.
First and foremost, check your website using Google Developers Mobile-Friendly Test Tool.
It's estimated that 10-15% of searches are on mobile devices. Did your SEO strategy intentionally leave out that chunk of your audience? Probably not, so now's the time to get your strategy back on track with mobile.
Why Google Cares About Mobile
Google's business model is to provide the best results for users. When someone is searching on a mobile device, Google feels user experience is better when the websites they show are optimized for mobile. If you've ever used a non-mobile website on a mobile device, you probably agree. In its quest to provide the best search results, Google has altered its mysterious algorithm so when a search is conducted on a mobile device, sites optimized for mobile viewing get extra credit. And Google docks sites that aren't mobile friendly.
How to Optimize Your Site for Mobile
Responsive Design
Responsive Web Design With responsive design, we make one site that automatically optimizes for the viewer's browser size. The same content can be viewed on desktops, tablets, and smartphones in a way that's best on that device.
Google now recommends responsive design in its best practices recommendations.

Forked Mobile Site
With a forked site, your mobile website is separate from your desktop website. Sometimes, you have to update content in two different places, doubling your content efforts. And if a forked site isn't built correctly, Google flags the content on the mobile site and the content on the browser-based site as duplicate content. Duplicate content can cause a big negative hit in your site's rating.
We continue to recommend responsive websites for organizations looking for a new website. However, forked sites are an acceptable solution if you're not ready to invest in a full website redesign but want to optimize for mobile.
How Google's Mobile Preference Affects You
As with most marketing, the effect will depend on your audience and your industry. This algorithm change affects the following types of organizations the most:
Local businesses – 50% of mobile searches on Google are for local information. If you're not ranking, your competitors probably are.
Online Retailers – E-commerce sites are seeing the impact of this change even more. Make sure your catalog and shopping cart are streamlined for mobile use.
Brick and Mortar Retailers – 80% of customers use smartphones to shop. They're looking for location information, bookmarking favorites, and comparison-shopping on mobile devices.
Restaurants – Consumers are looking for places to eat while they're on the go. Does your mobile site include your menu, your hours, and your location?
Hopefully Google's algorithm change will reinforce the importance of mobile optimization—not only for SEO, but also for user experience.
We recommend that you consider having a responsive web design when creating or redesigning your website. If redesigning your website for mobile is something that you have considered doing in the past, it's imperative that you add it to the top of your marketing to-do list. Come April 21st, if you haven't done this yet, you may be taking a hit to your site's web traffic.
If you're ready to go mobile, get in touch, then in line.
Contact Us
We want to hear from you, so what are you waiting for? Contact us today.
Get In Touch
Share this post
Comments