Graphic Design Trends of 2016
Graphic Design Trends of 2016
/images/uploads/blog/Image_Graphic_Design_Trends_of_2016.jpg
Omaha Media Group
https://www.omahamediagroup.com/images/uploads/monster_gallery/Omaha-Media-Group-Black.jpg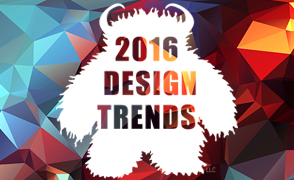 As with all things, the trends of Graphic Design come and go, but it's hard to say when those trends will do so. The trends of graphic design tend to fizzle out slowly without much notice, as opposed to disappearing like a puff of smoke. It can take a significant amount of time for a design trend to reach its peak, revamping its aesthetic as time goes on. It's smart to be aware of the shifting trends in design to avoid overuse and to twist the trends into something new and interesting.
Though predicting design trends is hardly an easy task, many professionals in the design industry have developed a keen eye as to what styles and techniques are going to take off. Let's take a look at a few of the trends for the 2nd quarter of 2016.
1. Modern-Retro Style
As opposed to going full-on retro with the early 1900s through the 60s, the trend this year is to follow design concepts of the late 70s through the 90s. The pixel art of your favorite 90s games are making their way back. "Nerd" has never looked so good.
2. Bold, Bright Colors
Building off of the modern-retro style, vibrant hues are proving to be popular pallet picks. Bright pastels, neons, and more saturated colors have moved their way to Pantone's Spring 2016 Color Report.
3. Geometric Shapes
The simplicity of geometric shapes tags along with the modern-retro style. The elements themselves, in addition to patterns of geometric shapes are being applied in all sorts of ways. "Low poly", a 3D mesh modeling technique, is quite popular for 2016 outside of the gaming world. Layered geometries, forming backgrounds will also be a popular design technique.
4. Negative Space
Negative space has been an essential part of design as far as design goes back. The strategerie of negative space this year is proving to be a smart and well-thought out concept for this year. Not only can this negative space be extremely smart, but it can give your composition and great essence of minimalism.
5. Modular Layouts
Modular layouts, also called grid layouts have become a largely growing design trend over the last year. Modules that are self contained and organized have put a new twist on this trend. Rule-following grids aren't the only direction this design is headed. Keep your eyes on the lookout for freeform grids as well. Even if the design is a little loose, the organization is still there.
6. Creative Typography
Typography isn't just for reading any more. Bold type is becoming the center of attention through size, color, texture, and arrangement.
7. Custom Illustrations
Designers fear their designs looking generic, and businesses never want elements of their website to show up on their competitors websites. Designers have been putting in the extra work to create original solutions for their clients through custom illustrations. Making more personalized imagery is a trend we expect to continuously grow.
Following trends for the sake of being trendy isn't exactly a superb approach. However, if you are finding yourself in a position to update your aesthetic, easing your way in with subtle changes can really freshen up your look. Even the greatest design trend won't add anything to your design if it's not applied thoughtfully.
What are some design trends that you're seeing that we might not have mentioned? Are there any trends that you're happy to see? Are there any lingering trends that you'll be happy to see fade away into the night?
Subscribe to receive our Newsletter!
Contact Us
We want to hear from you, so what are you waiting for? Contact us today.
Get In Touch
Share this post
Comments