How to build your email marketing list
How to build your email marketing list
/images/uploads/blog/Omaha-Media-Group-02.02-Blog_.jpg
Omaha Media Group
https://www.omahamediagroup.com/images/uploads/monster_gallery/Omaha-Media-Group-Black.jpg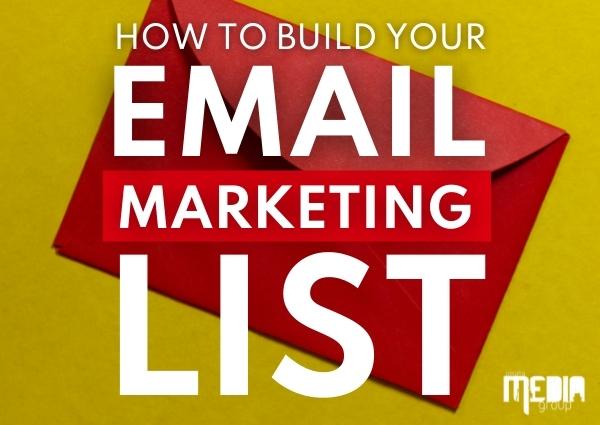 Email marketing is one of the most powerful tools to generate lead generation- from industry to industry- it is estimated that companies who spend $1 on email marketing can see a return of investment up to $40. However, seeing this type of return on investment means getting subscribers who want to receive emails from your company.
Reaching the right audience takes time and patience, but in the end, building the right list can prove its value over time.
As one can guess, the term list building refers to the process of collecting email addresses from your website. This is done to grow a profitable email list.
Whether it is a list for birthday email marketing strategies or an acquisitional marketing campaign, it is important to build a proper list with the right segmentation and audience.
How to build your email marketing list
Tips to build your email marketing list
1. Embedding sign-up forms
One of the top strategies that Google for Small Business suggests for companies is to embed a sign-up form on the website. As visitors come to the website, and your team publishes content, this sign-up form can be added as a button or link for others to sign up for!
This provides the ability to see what type of content consumers are looking for and subscribing to! It takes out the guesswork.
2. Offer exclusives and discounts
Raise your hand if you hate a good promotion or discount? No one? That's what we thought. As consumers ourselves, what are some promotions that we love to receive? As a company considers how to build an email marketing list, getting creative with promotions, discounts and exclusive offers are what can set your emails apart from the competition.
Check out some examples that can be offered to all new subscribers!
By choosing to opt-in, your new subscribers are telling the company that "yes, we would like your content." How many times have you opened your personal or professional email and noticed plenty of emails that you never subscribed to? Most ofthese get deleted or sent to spam.
In an effort to avoid this on both ends, opt-in is the answer.
4. Strategic content
Similar to other digital marketing strategies, strategic content marketing is necessary for each email marketing campaign! It is the backbone behind each campaign, so make sure it hits the mark.
While sending out an offer after another offer is a great effort to drive lead generation and sales, it can also have the opposite effect. Too many promotions and offers can give subscribers fatigue over time. A way to handle this is with strategic content, but don't make it too hard.
An old blog, newsletter, etc. is what can be implemented!
5. Clean out the list regularly
The email marketing lists are where the money is at, and if a company notices a decrease from a list, it is important to review said list. While this should be done on a consistent basis, sometimes it gets put on the back burner.
Is a larger percentage inactive? Is this list so old that it isn't even performing? Have subscribers clicked on the link in the last three emails? If these subscribers are no longer active, instead of pestering them, it might be time to part ways.
It might not be you, but either way, it is time to say goodbye.
6. Contact us today!
It is important to understand the monetary value of an email marketing list while also utilizing the best systems and teams out there! Contact one of our email marketing expert Omaha!
Contact Us
We want to hear from you, so what are you waiting for? Contact us today.
Get In Touch
Share this post
Comments