How to grow an email marketing list
How to grow an email marketing list
/images/uploads/blog/OMG-09.28-Blog_.jpg
Omaha Media Group
https://www.omahamediagroup.com/images/uploads/monster_gallery/Omaha-Media-Group-Black.jpg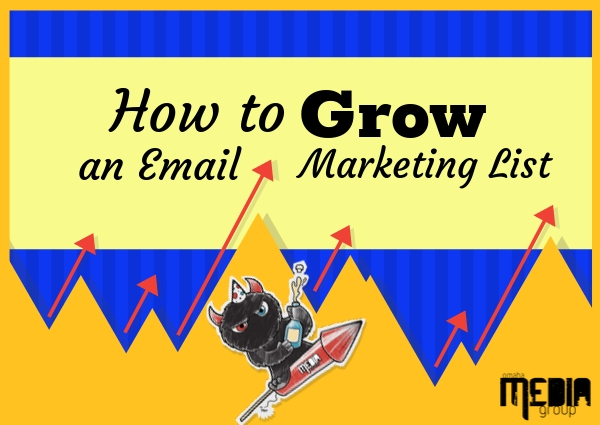 Email is the standard form of communication in the business world. How many emails do you send a day? Email is preferred because it provides a quick response, and in the marketing world, it continues to provide the highest ROI value to this day.
With this in mind, how can a business continue to grow their current email marketing list and segments?
1. Creative content and graphics
Think about it, 2020 is only three months away! What have you been doing all of 2019 that can be enhanced to engage clients and consumers. Interactive emails. Why would a consumer want to open your email marketing campaigns? Are there any promotions?
Interactive content allows for consumers to swipe, click and open content inside the of the email. Have a promo? Simply create a button for this and send the users to the correct page on the website. This helps increase overall click-to-open rates. A simple email marketing strategy with GIFS, interactive elements and even videos can help grab the attention of consumers.
Should all clients be receiving the same email? More than likely, the answer will be no. Some clients will want X email and others will want Y email dependent upon their interaction with the business. For example, at Omaha Media Group, Digital Marketing clients will want a range of topics of digital marketing, company updates and office closing; however, would they be interested in a website design email? Probably not.
3. Revive an old marketing list
People change emails, use certain ones for promotions and professional and leave companies on a regular basis. It is important as marketers to make sure all email in segmented lists are active emails. This can be done with a simple email encouraging old contact to stay active by responding to this email. If they do not respond in a timely manner, more often than not, they are no longer interested in your email marketing efforts.
4. Start hosting webinars!
Emails after emails after emails, there are 205 billion emails sent on a daily basis around the globe. That is a TON of content being circulated through the Internet. What can help break up this content? Webinars. The first step is to send out the webinar sign-up for clients and consumers. Once that is complete, make sure to host the webinar (most important part). Once the webinar is over, have another email sent to those who participated with the transcribed or recorded video. This gives them a reference to return to later and makes the 30 minutes to an hour spent listening worth it at the end. A win-win for everyone.
"25 percent off one month of services if you open this email." Who wouldn't open that email up? This is the perfect time to grab the attention of clients and consumers, see if emails are being opened and provide loyal consumers and clients with a nice little offer!
6. Market it on landing pages of your website
Hey, do you have a blog page? What about a landing page? Guess what, market that people can sign up for monthly emails providing them with your best blogs of the month.
7. Hosting an event?
Leave out an ipad, pen and paper or grab business cards for emails in the future. This can help you generate a better segmented list of contacts and weed out any old emails in those lists. An event is a great opportunity for networking and building that list without any extra effort.
8. Less is more
Just get to the point. Keep the content short, simple and add those interactive buttons or videos to the email. You've got about two seconds, used to be three seconds to grab the attention of consumers. How are you grabbing their attention and keeping them on the campaign or funneling them to a landing page?
How can I opt-in and opt-out of these email campaigns? Are they subscribing with a button or confirmed email? When they decided that it is time to opt-out, how does this process work? Do you want to make a button that appears stating, "Are you sure you want to unsubscribe to this email?"
No matter the way a marketer decided to handle this, it is important to think about.
Email marketing continues to be a chosen marketing strategy with businesses all over the globe, and because of this, Omaha Media Group created Monstrous.Email.
This platform integrates with ActiveCampaign, MailChimp and SalesForce for a seamless and easier process for handling and managing email marketing campaigns.
For more information on our email marketing, fill out the form below.
Contact Us
We want to hear from you, so what are you waiting for? Contact us today.
Get In Touch
Share this post
Comments