How websites can achieve E-A-T quality in Google
How websites can achieve E-A-T quality in Google
/images/uploads/blog/Omaha-Media-Group-09.26-Blog_.jpg
Omaha Media Group
https://www.omahamediagroup.com/images/uploads/monster_gallery/Omaha-Media-Group-Black.jpg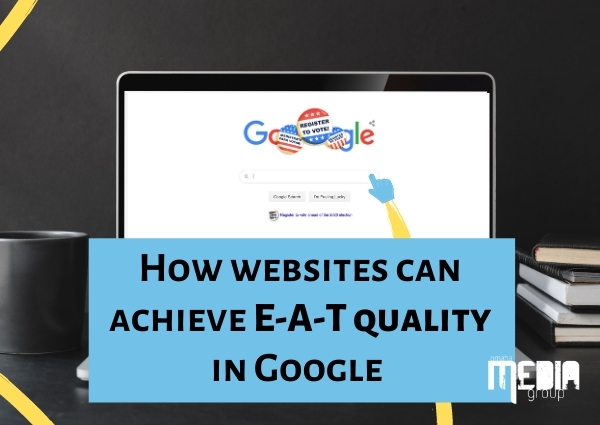 Google is continuously working on improving its search engine to provide the best content and search results to its consumers with weekly small updates to the monthly Core Algorithm and Updates that shake up industries and ranking.
Out of all of these updates, the update in 2018 was one of their biggest updates.
The biggest myth of EAT in Google is that it is a ranking factor. This is not the case. So, if it isn't a ranking factor, but it does affect a website to some degree, what is it?
This is what EAT in Google is and how a company can make sure to create its content to follow its guidelines to optimize their Google E-A-T.
What is EAT?
E-A-T stands for "Expertise, Authoritativeness and Trustworthiness." Short, sweet and simple. Google's standards have always been to provide the best content for search results, and in an effort to continue to do this, E-A-T was implemented to show in a fashion that the first page results of a search query are in fact written by an expert in that industry, it is authoritative and ultimately the content that is published is trustworthy.
While E-A-T is something newer in the SEO industry, this has been around since the beginning of Google with their ranking factors in place. This document was last updated in December 2019, but the core values of ranking in its search engine are still there.
We are here to break another myth with this, there is no Google E-A-T score. There is no physical score that Google provides. It does not say, "this page is a 10 and that page was a 20."
How can websites make sure their content is up to any search engine's standards?
You have to start
Yup, we get it, this is a no-brainer, but SEO is critical for a website ranking in any search engine. While the strategies behind the overall SEO might be a bit different based on the search engine, at the end of the day, it is important to implement SEO no matter what!
Why is this our first point in how to achieve EAT quality on Google? Because it takes six to nine months of hard SEO work to start seeing significant results. This also depends on the industry and the history of the website.
There are some industries that are extremely competitive, and because of this, it will take even longer to see those significant results in Google. On the other hand, if a website's Domain Authority (DA) is extremely low, this will also make it a bit harder to rank on the first page of Google. But, this can be solved by using lower volume keywords that are more targeted to your target audience and its search queries.
Our recommendation besides just starting any old SEO strategy is to make sure that your company implements on-page and off-page technical organic strategies that involve a rank of services from blogging content to backlinking.
Expertise
It's not enough to write the world's best optimized blog, the creator also has to be an expert in the industry. This is one of the reasons why the healthcare industry continuously seems to be hit harder than other industries because of the EAT update.
This is because anyone can write about vaccines and CBD oil, but what is that person's credentials to be writing that content? Are they researchers or someone who went to Google Search University.
Now, this is only one part of this expertise portion. Another way to be an expert in an industry is to continuously write high quality content that consumers and search engines both want to read and crawl. A great example of this is backlinks. The more backlinks that a blog has back to it or the more high quality, unique content the blog contains, the more likely Google finds that blog to be written by an expert in that industry or a specific topic of interest.
Authoritativeness
A great example of this is the e-commerce industry. A small, niche jewelry store that only offers specific items will be considered overtime as an authority in that specific niche. Whatever your company offers in services and/or products to your customers, make sure to show that you are the authority in that space with content marketing, optimized keywords within blogs and writing content that gets backlinks.
Think of the biggest name or company in your industry or niche? We bet you were able to list one or two immediately. This is why we ask our clients, "who are your competitors?" Another question we ask, "What bigger, national clients do you follow that relate to your industry?" This is because they are the authority in that space, topic or industry, and they start at ground zero as well. Over time, that expert was able to build their brand in search engines and this is exactly what our experts are working on for your brand.
It takes time to be considered an authoritative person in an industry, but once it happens, the outcome is great!
Trustworthiness
This is probably the most important factor of EAT that all companies need to understand. You can be an expert and your website has more authority than others in the industry, but if you are not considered trustworthy, then it is kind of a deal breaker. This means asking for Google reviews, Yelp reviews, UpCity reviews and other notions in there. And guess what, even bad reviews are good.
Yes, we really just said bad reviews can be good. This is because the good with the bad shows that your business is really a business and you are trustworthy.
Another notion to take into consideration is white hat SEO versus black hat SEO. White hat SEO is the right way to have an agency or in-house person implement SEO. These strategies fall in line with the search engine's rules set in place and over time simply help a website; on the other hand, black hat SEO is what Google is trying to remove from its search engine. This is a multitude of bad SEO strategies from keyword stuffing content to spammy backlinks linking back to your company's blog.
A website needs to make sure that they are implementing white hat SEO strategies that include on-page and off-page technical SEO while writing content that consumers and search engines want to consume.
Sounds easy enough, right?! Nope, which is why we have experts who work on this as their full-time position.
Share this post
Comments