Marketing to Generation Z Just Got Harder: Here's What You can do About it
Marketing to Generation Z Just Got Harder: Here's What You can do About it
/images/uploads/blog/MARKETING_TO_generation_z.png
Omaha Media Group
https://www.omahamediagroup.com/images/uploads/monster_gallery/Omaha-Media-Group-Black.jpg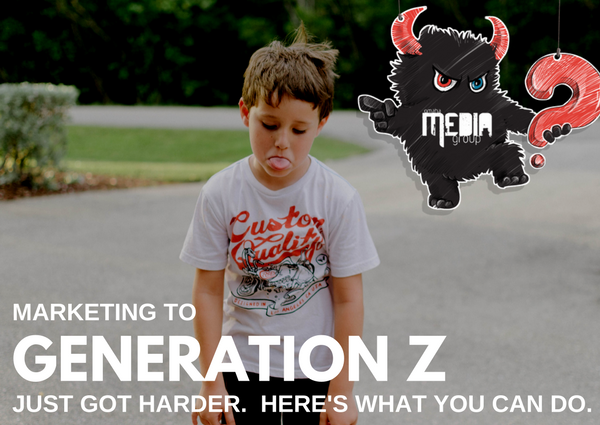 Generation Z – the social butterflies of the world pose a minefield of challenges to marketers. Businesses have just 8 seconds to engage Gen Z or risk losing them to competing brands; so short is their attention span.
Generation Z offers unique challenges to businesses because of the extent to which they are connected to other people, brands, and businesses online. The Gen Z population is estimated to reach a whopping 2.56 billion in population by the year 2020 and 96% of the existing population use a smartphone to do some very smart shopping. They are also the group that is most likely to trust their peer's review on social media than any advertisement a brand creates.
With preferences changing every second, Generation Z is as fickle a group as it gets. So, how should marketers tackle these tricky individuals? Here are a few tips you can implement to engage your Gen Z customers:
Show them what they want to see
Gen Z are a part of the age where the brands fight for customer attention, and they are acutely aware that they are the customers. Generation Z is a group that wouldn't give traditional advertisements the time of day. They want content that can add value to their search and help them make a decision. Impassioned appeals don't figure in their list of acceptable marketing techniques. It's best to give them what they want, directly, no frills attached.
Looking smart is as important as sounding smart
The age of social media is all about aesthetics. When marketing to Generation Z, it's important to remember this bit of information. Instead of creating an advertisement in HD, work on your social media profile. Spruce up your profile picture, change your website display, create fun and engaging navigation systems – these will work in your favor. Gen Z tends to place too much emphasis on looking the part.
Create with them, not for them
Gen Z is a group that knows how to put technology to good use, sometimes better than businesses themselves. If they see something that they don't like or want to be changed, chances are, they'll call you on it. But this very trait of Generation Z will help businesses. Today, marketers have the chance to find out first-hand what sells and what doesn't, within minutes of putting the product out on the market. Gen Z will take to Facebook or Twitter instantly to put up their reviews and suggestions. Businesses can use this input to improve their offerings. The trick is to collaborate with them while creating your product.
Make your default settings adaptive and responsive
Generation Z is a group whose attention is extremely hard to retain. They are also the group that moves around on social media quickly. One moment they are on Facebook and the next they're out experimenting with a newly released social media app. As marketers, you need to be attentive to these changes and create marketing content to suit the ever-changing customer environment.
Let us help you develop a marketing plan enticing enough for Gen Z!
Contact Us
We want to hear from you, so what are you waiting for? Contact us today.
Get In Touch
Share this post
Comments