Nine blog tips for SEO!
Nine blog tips for SEO!
/images/uploads/blog/Omaha-Media-Group-02.06-Blog_.jpg
Omaha Media Group
https://www.omahamediagroup.com/images/uploads/monster_gallery/Omaha-Media-Group-Black.jpg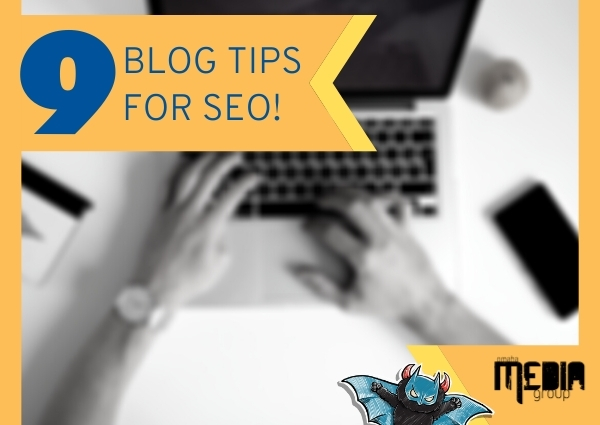 A lot has changed since the dawn of SEO, and even 10 years ago, SEO trends changed, but at the same time, the fundamentals are still there. With so many SEO techniques, which ones are best for blogging content and other types of SEO strategies?
With both B2B and B2C companies searching for an increase in traffic and leads from their website and blog, these are the top nine Omaha SEO tips for blog posts from our experts.
Optimizing a blog post for keywords is imperative, and the backbone of the strategy, but it has to be the best keyword possible! In blogs, long-tail keywords are often the best way to go! While long-tail keywords are often ignored in the overall SEO strategy because of their lower volume, they provide even more qualified traffic than those high volume keywords!
This is because that smaller volume is an even more concentrated audience who is searching for that long-tail keyword. There might be 40 more website visitors, but those 40 website visitors are narrowed down in their search journey and are taking the action they were searching for to finish their customer journey.
Long-tail keywords are about two to four words per search query, which means they fit more naturally into content than a majority of short tail keywords. This helps to increase user experience because the keywords fit more naturally in blogging content which improves the time a consumer spends on that specific blog.
2. Research every topic
Just as if a company was researching their keywords, the first step should be the topic. This is because a company might think their blog is a great topic of conversation that appears in meetings often, but on search engines, this topic of conversation could be vastly different.
This is also because changes in SERP could produce different results that will appear. With the introduction of rich results and their rise in popularity, some content should include rich results, some include answers and others product ads at the top of the results..
When you understand how the search results will show the content, it can help to provide the best research and content because you can optimize content based upon the results and spend time reading those top ranking blogs.
3. Update old ranking blogs
This is one of the oldest Omaha SEO tips for blog posts in the industry due to trending topics in search engines. A blog that is consistently ranking over time is called "evergreen content." This content is a trend or topic in the industry that continues to grow overtime. This ensures that this content will rank year over year.
An old blog that is ranking on the second page of search engines could be updated to boost it to the second page with a video, new keywords, some new content or an infographic. What would make the content more unique and add value?
4. Optimize images for SEO
Yup, there is even image SEO. Whenever a blog image, infographic or other graphics are uploaded into a blog, this should include keywords in the file name and the alternative text should be filled out.
Image SEO is similar to long-tail keyword traffic because images only account for 20 percent of Google's search results, but with 67 percent of final purchasing decisions based on images, they are imperative to the strategy.
We are about to change your idea about blogging content with this Omaha SEO tips for blog posts because when companies typically think of blogging content, they think of this long-form content just like this blog, but blogging content can be a multitude of different content types that can break up the traditional types of content.
A blog can be a press release, an ebook, infographic, images, quarterly forecasting, industry trends and really anything else that a company can think of that is unique but still what their consumers want to read.
No matter what SEO tip that a company reads about blogs, off-page or on-page, always make sure to understand that backlinking is an integral part of any SEO strategy. A backlink is a link that is referring back to your website from another one, or internally throughout your own website. In search engines, backlinks and how many a company has are part of their blogging strategy to rank over time.
This shows search engines that the content is up-to-par with their E.A.T quality standards and is valid and relevant to the industry and consumers.
It is important to create high quality backlinks when writing blog content and updating backlinks that were previously used in old blog content when updating them over time.
7. Topic clusters
Topic clusters are where opportunities lie and the struggles of what type of content to write begins to disappear over time. These topics can be leveraged with Omaha SEO tips for blog posts because they can develop internal linking and building off of ranking or existing blogging content.
What is a basic question in the industry? How about, "What is SEO?" What is the next step in that pillar, the next, the next and after that. This helps to build links to that main blogging content that helps to build off of others.
Google understands semantically related content and will even show them based on several other related terms. This means that, "What is SEO?" blog could be ranking for
SEO basics

What is SEO

Basic understanding of SEO
This is because semantically these ideas are the same, just different ways of searching for the same topic.
8. Structure URLs properly
Search engines like clean, easy to read URLs. A URL that does not give quick understanding of what the content will entail will turn the search engine away. The Google spiders who crawl the website will still crawl the site, but they prefer nice and clean URLs.
9. Guest posting
One of the last Omaha SEO tips for blog posts is to start guest posting. This is similar to "social media takeovers" on Instagram, but with guest posting, this is unique content on the site from another industry leader.
However, with guest posting, there are some restrictions to remember to avoid getting in trouble from search engines such as Google.
This helps with backlinking strategies and bringing in a fresh set of qualified website visitors who follow that personal or company brand. There are websites out there that allow for companies to reach out to one another, but if a company reaches out to you, check their DA score and source of credibility before speaking more about the matter.
Contact Us
We want to hear from you, so what are you waiting for? Contact us today.
Get In Touch
Share this post
Comments