Omaha SEO expert gives the top four things to avoid on your website
Omaha SEO expert gives the top four things to avoid on your website
/images/uploads/blog/OMAHA-SEO-MISTAKES-TO-AVOID-OMAHA-MEDIA-GROUP.png
Omaha Media Group
https://www.omahamediagroup.com/images/uploads/monster_gallery/Omaha-Media-Group-Black.jpg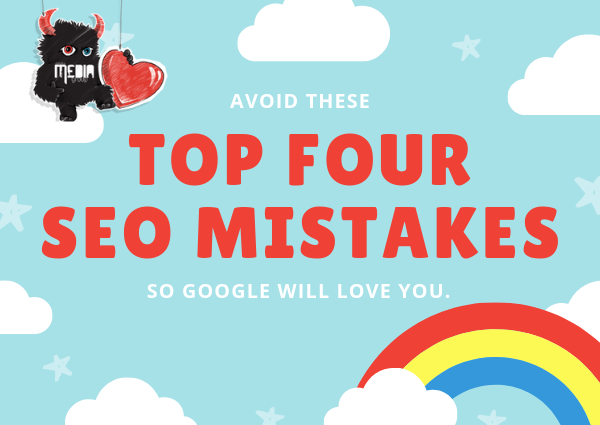 If you're a business owner in Omaha, SEO is likely a common topic of discussion when it comes to marketing. Search engine optimization (SEO) is the marketing strategy implemented to increase organic traffic to a business or organization's website. Increasing the organic traffic to a website not only boosts the credibility of a business within search engines, it brings in higher quality traffic to a site.
However, did you know that some mistakes can wreak havoc on your SEO? Your website might be flagged by Google without you even knowing it!
Top four SEO mistakes to avoid
Not having a mobile site
Mobile-friendly websites have proven to be important in 2019. Google now crawls the mobile version of your website before it even looks at the desktop version. Additionally, Google determines the rank of your website based on the mobile version alone.
Mobility is the third most important factor in your search engine rankings! Slow loading and poor mobile experiences for users will drop your website in rankings, so get your mobile site up and running now!
No SSL certificate
If your website is not secured with an SSL certificate, Google will flag you down! As of July 2018, Google began penalizing websites lacking these security certificates.
Why? SSL Requirements establish trust between the user and website provider, can encrypt personal information, and authenticates your website with Google. If you'd like more information on the importance of SSL certificates and which ones to choose, visit our blog!
Bad content
With Google, "bad content" can mean a number of things. Bad content includes everything from duplications, low word count, and low text-to-HTML ratio.
Duplicate content, for example, can boot your website out of search engine results entirely! While most duplicate content is published unintentionally, 29% of the internet is actually made of this kind of content!
In line with duplicate content, studies show that most online consumers interact with website content before they converse with a salesman in your business. So, if your lead generation is suffering, consider the content you're putting out. Is your content too short? Is it not unique enough? How can it be better?
Bad keywords
As a longtime Omaha SEO expert, we can assure you - the keyword struggle is real!
Did you know "keyword stuffing" can actually get your website penalized by Google? If you've stuffed your content full of keywords you're hoping to rank for, Google will notice!
Trying to rank for irrelevant keywords? Don't expect many favors from Google in that vein either. Keep in mind, Google wants site users to have good, quality content that is helpful to them. If a keyword brings a user to a website that has nothing to do with what they're searching for, the user is helped none!
There are many factors that go into a website's search engine ranking. When working with a high quality Omaha SEO expert, your business can implement good SEO tactics for higher rankings.
Bad SEO can be reversed, but the time it takes can be substantial. If you've never had SEO marketing strategies within your business, 2019 is the year to get after it!
Need SEO?
We've got the best SEO team around!
Let's talk!
Share this post
Comments